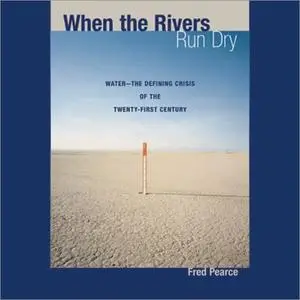 Throughout history, rivers have been our foremost source of fresh water both for agriculture and for individual consumption, but now economists say that by 2025 water scarcity will cut global food production by more than the current U.S. grain harvest.
In this groundbreaking book, veteran science correspondent Fred Pearce focuses on the dire state of the world's rivers to provide our most complete portrait yet of the growing world water crisis and its ramifications for us all.
Pearce traveled to more than 30 countries examining the current state of crucial water sources like the Indus River in Pakistan, the Colorado River in the U.S., and the Yellow and Yangtze rivers in China. Pearce deftly weaves together the complicated scientific, economic, and historic dimensions of the water crisis, showing us its complex origins – from waste to wrong-headed engineering projects to high-yield crop varieties that have saved developing countries from starvation but are now emptying their water reserves. He reveals the most daunting water issues we face today, among them the threat of flooding in China's Yellow River, where rising silt levels will prevent dikes from containing floodwaters; the impoverishment of Pakistan's Sindh, a once-fertile farming valley now destroyed by the 15 million tons of salt that the much-depleted Indus deposits annually on the land but cannot remove; the disappearing Colorado River, whose reservoirs were once the lifeblood of seven states but which could easily dry as overuse continues; and the poisoned springs of Palestine and the Jordan River, where Israeli control of the water supply has only fed conflict between Israelis and Palestinians.
The situation is dire, but not without remedy. Pearce argues that the solution to the growing worldwide water shortage is not more and bigger dams, but a greater efficiency and a new water ethic based on managing the water cycle for maximum social benefit rather than narrow self-interest.
DOWNLOAD LINK