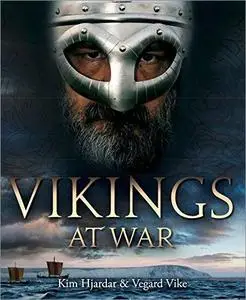 An illustrated guide to Viking warfare from strategy and weapons to culture and tradition: "a very excellent introduction to the Viking age as a whole" (Justin Pollard, historical consultant for the Amazon television series Vikings).
From the time when sailing was first introduced to Scandinavia, Vikings reached virtually every corner of Europe and even America with their raids and conquests. Wherever Viking ships roamed, enormous suffering followed in their wake, but the encounters between cultures also brought immense change to both European and Nordic societies.
In Vikings at War, historian Kim Hjardar presents a comprehensive overview of Viking weapons technology, military traditions and tactics, offensive and defensive strategies, fortifications, ships, and command structure. The most crucial element of the Viking's success was their strategy of arriving by sea, attacking with great force, and withdrawing quickly. In their militarized society, honor was everything, and ruining one's posthumous reputation was considered worse than death itself.
Vikings at War features more than 380 color illustrations, including beautiful reconstruction drawings, maps, cross-section drawings of ships, line-drawings of fortifications, battle plan reconstructions, and photos of surviving artifacts, including weapons and jewelry. Winner of Norway's Saga Prize, Vikings at War is now available in English with this new translation.
"A magnificent piece of work [that] I'd recommend to anyone with an interest in the Viking period." —Justin Pollard, historical consultant for the Amazon television series Vikings
DOWNLOAD LINK