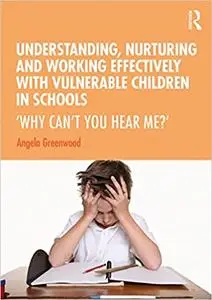 In times of increasing pressure on schools and teachers, it is essential that teachers are equipped to understand the emotional and relational factors in learning and teaching. Vulnerable and disaffected children need understanding and nurture rather than reactive management, which can easily exacerbate their difficulties, leaving them unheard and defensive, and even undermine teacher confidence and effectiveness.
Understanding, Nurturing and Working Effectively with Vulnerable Children in Schools offers a comprehensive and accessible exploration of the difficulties faced by teachers and schools from at-risk and disaffected children, including repeated trauma and insecure attachment patterns. The book describes how a thoughtful 'relationship-based' approach can both alleviate such difficulties and offer a second chance attachment experience, enabling students to discover it might be safe to let down their all consuming defences a little; thus freeing them to begin to learn. It offers:
practical suggestions in note form – making them easy to use, refer to and assimilate;
numerous case examples and teacher friendly theoretical background material;
a wealth of ideas for ways forward, including differentiated responses to children in the light of their particular patterns, developmental stages and unmet needs.
Written from extensive professional experience, this is an essential handbook and resource book for trainers, schools, teachers and school staff, and also for educational psychologists and those in children's services working with vulnerable children in pre and primary schools, as well as those in special schools and units.
DOWNLOAD LINK