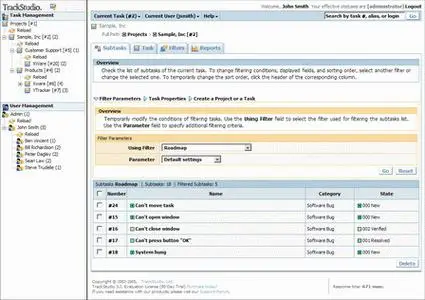 TrackStudio is an ultra-configurable issue tracking system, workflow engine and document management system that can be used to track the progress of any kind of task such as issue resolution, requirements gathering, desktop support handling, project monitoring, hardware deployment and staff hiring.
Features
TrackStudio harnesses the power of the Internet to bring together knowledge from contractors, off-site employees, and customers. Use a standard web browser to access the system from any location around the world.
Fully web-based, including the Administrator Interface
Explorer-style user interface
WYSIWYG bug description editor
Cross-platform supports for Internet Explorer, Mozilla, and FireFox
Optimized for managing large numbers of tasks (bugs, projects) and users
Easy-to-configure custom colors or graphics (company colors, logo, etc)
Each user can enter and view date and time in their own time zone and local format
Full internationalization support (web, e-mail, reports)
Out-of-the-box English and Russian skin support
All forms are printer-friendly. Now you can print out any form, just use File->Print in your browser.
JavaScript-based form validation prior to submission
User default project. Each user can be assigned a project that will be available for him right after he/she logs in.
Organize your database into projects and subprojects, making it easier to administer multiple projects. Management can correlate data across multiple projects in a single report, allowing for more informed decisions. Summarize information from multiple projects to define a single tracking process that works for your whole organization.
Create new task or project with two mouse clicks
Supports name, description, category, priority, state, and resolution fields
Deadline tracking.
Elapsed and estimated time tracking; history stored in database
Assignments history path recorded in the database with comments
Bulk copy/move tasks between projects
Split bugs in various different bugs, whilst still maintaining reference to the main bug
Per-version auto-assignment rules
Per-component auto-assignment rules
Per-project auto-assignment rules
Quick access to task or project by task number or alias
Bulk Editing Tool allows changes to priority, deadline, handler, state, resolution, elapsed and estimated time and add bug-note for multiple tasks (even in several projects)
Text formatting engine for the task and message description formatting.
Use filters to search tasks by complex criteria.
Multiple filters per project
Filtering on multiple projects
Private or shared filters
Per-project filter list
Supports AND/OR/NOT logic
Filter tasks by custom fields, changelog and roadmap generation. Calculated custom fields allow you to create very comprehensive filters.
Filter tasks by message properties (submitter, handler, elapsed time, status, resolution, keyword)
Full text search
Sort by multiple columns
Safely delete the used filters
Custom fields can be added to tasks and users to capture the company-specific information.
Unlimited numbers of custom fields
Custom fields inheritance
Supports custom fields for tasks, users, and workflows
BeanShell-based calculated custom fields
Per-project custom fields
Per-workflow custom fields
Supports string, memo, integer, float, date, list, multilist, task link, user link and URL types
Supports default values (including list type)
Supports required custom fields
Supports custom fields in filters
Supports custom fields in reports
Supports custom fields in e-mail notification rules
Supports custom fields in task list
Operating System: Windows 7, 8/8.1, 10 (64-bit)
Home Page – http://www.trackstudio.com/
DOWNLOAD LINK