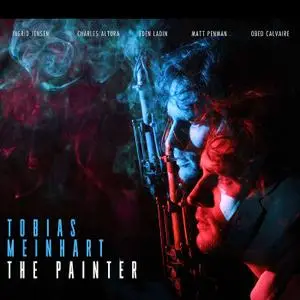 The creation of music shares much in common with creation in the visual arts. Both musicians and visual artists speak of and deal in colors, hues and textures in their compositional processes. Saxophonist/composer Tobias Meinhart has developed near synesthetic visualizations as he performs and hears music. His new recording, The Painter, presents his recent work of diverse, brilliant pieces meant to brighten the world's canvas.
The German born Meinhart has engrained himself in the New York City jazz scene over the past decade. His beautiful tone and catholic tastes have allowed the saxophonist to fit into an abundance of musical settings. Meinhart's vision and thoughtful composing have attracted top-flight collaborators since his professional beginnings.
The past year has provided a time of introspection and development for many. Meinhart is no exception. He found himself especially drawn to his friend, Igor Sokol, a painter. The two spoke of art and music, listened and appreciated and collected inspiration from the events that were affecting the world. Meinhart was drawn to the idea of composing and improvising as a sort of aural painting and he began to see colors and pictures when he reached a certain zone while playing.
With much to think about in craft and inspiration, Meinhart began to compose pieces that would be recorded on The Painter. The inspiration for the pieces drew from a number of sources: from the COVID-19 pandemic and the Black Lives Matter movement to meteors and Michael Jordan, all presenting hopeful messages of healing and progress.
The ensemble that Meinhart assembled to record these new pieces consists of a number of the saxophonist's favored collaborators, including pianist Eden Ladin, bassist Matt Penman and drummer Obed Calvaire. Since his recent release and collaboration with Kurt Rosenwinkel, Berlin People (Sunnyside 2018), Meinhart has been drawn to the sound of guitar, thus the addition of his neighbor and friend, Charles Altura. These musicians, in this and similar configurations, have been the saxophonist's regular associates on stages like the 55 Bar and Birdland in New York City over the past two years.
The frontline is completed by Meinhart's longtime mentor and friend, trumpeter Ingrid Jensen. The two first met in Austria in 2003 at a jazz workshop, Jensen allowing the young saxophonist an opportunity to sit in with her band. They remained in contact in the subsequent years, performing together when opportunities presented themselves.
The recording begins with the offbeat "White Bear," a rhythmically complex tune in 9/8 time that is named for Meinhart's favorite dumpling house in Flushing, Queens, his last meal before the pandemic shut down New York City and, hopefully, his first stop once things return to a semblance of normalcy. A meditation practitioner, Meinhart uses the name of a famous koan, "Oak Tree," for this thoughtful, slow piece that blends sax and trumpet in close harmony. The fervent "Movement" was written in May inspired by the Black Lives Matter protests and pushes a hopeful, forward thinking harmony akin to continuous circular motion that composer Kenny Wheeler was the master of.
A poignant bass solo by Matt Penman utilizes overtones from Meinhart's written intro to the title track, the piece itself blooms insistently with piano and saxophonist's haunting multiphonics and settles into a spare ballad. The bright "Bird Song" was written for Jensen and utilizes the song of the chickadee in a sort of call and response between trumpet and alto flute, Meinhart switches to tenor to strengthen the duet over the winding 5/4 pulse. Bruno Martino's "Estate" is performed in a spare duet with pianist Ladin, the piece concluding into mysterious electric depths.
The waltzing "Neowise" takes its name from Earth's recent alien encounter with a meteor of the same name, Meinhart's tenor playing soaring into the outer atmosphere. Always a basketball lover, Meinhart was struck by ESPN's recent Michael Jordan documentary. His "Last Dance" harnesses the spiritual essence of Keith Jarrett's American Quartet and Archie Shepp's '70s work for Impulse! The recording concludes with Meinhart's most political state. "Dreamers" is a hope filled hymn for all of humanity, the saxophonist's message being so important that he decided to express it in his own words and natural voice.
Sometimes an artist's job is to mirror the world in his or her work. Sometimes it is their job to bring beauty and hope into the world. Tobias Meinhart takes a wide brush to the latter task on his fantastic new recording, The Painter.
Track List:
01 – White Bear (00:08:02)
02 – Oak Tree (00:07:16)
03 – Movement (00:07:57)
04 – The Painter (intro) (00:01:28)
05 – The Painter (00:08:29)
06 – Bird Song (00:07:31)
07 – Estate (00:04:15)
08 – Neowise (00:05:31)
09 – The Last Dance (00:07:11)
10 – Dreamers (00:05:43)
Tobias Meinhart – tenor & soprano saxophone, alto flute, voice
Ingrid Jensen – trumpet (2, 6)
Charles Altura – guitar (1, 10)
Eden Ladin – piano, Rhodes, ARP String Ensemble
Matt Penman – bass
Obed Calvaire – drums
–––––––––––-
DON'T MODIFY THIS FILE
–––––––––––-
PERFORMER: auCDtect Task Manager, ver. 1.5.1RC3 build 1.5.1.4
Copyright © 2008-2010 y-soft. All rights reserved
http://y-soft.org
ANALYZER: auCDtect: CD records authenticity detector, version 0.8.2
Copyright © 2004 Oleg Berngardt. All rights reserved.
Copyright © 2004 Alexander Djourik. All rights reserved.
FILE: 10 – Dreamers.flac
Size: 33664042 Hash: F416822B2BDCAF95FC882C9566BDD22E Accuracy: -m40
Conclusion: CDDA 100%
Signature: C7926223CFC219E6D1AF0D4F0B7018B7DACA2A21
FILE: 09 – The Last Dance.flac
Size: 40182504 Hash: EE6D1D968008A0D7BE2FF8FB8BE8AB15 Accuracy: -m40
Conclusion: CDDA 100%
Signature: 8BABB33373CB30EBE4423DFF16437D3F1EE8F92F
FILE: 08 – Neowise.flac
Size: 33550847 Hash: D0762750DACF8A2556C597D49B30A433 Accuracy: -m40
Conclusion: CDDA 100%
Signature: 6A556326091CA80B7FA1170746FA80F7826104C7
FILE: 07 – Estate.flac
Size: 19011889 Hash: 49FEA45696064F5342CB42D4521C95C9 Accuracy: -m40
Conclusion: CDDA 100%
Signature: AC3B6ADA80B802E5BCAC05F21AD9A3A088EC1BE6
FILE: 06 – Bird Song.flac
Size: 45756610 Hash: 4AF23AA3DB930D5304B1CB337CB085B7 Accuracy: -m40
Conclusion: CDDA 100%
Signature: 48DC29F911584B504625DE5D45AF936C2448208F
FILE: 05 – The Painter.flac
Size: 44235015 Hash: 5F96CA99021A5D38CDCFE318FF92C0A2 Accuracy: -m40
Conclusion: CDDA 100%
Signature: 79C41DA85F2CCC9B63038CCA112A02BF67AC1861
FILE: 04 – The Painter (intro).flac
Size: 5162833 Hash: 96040D4E70CD021FD34312D8CA57211B Accuracy: -m40
Conclusion: CDDA 100%
Signature: 54D81AE9978328536C4D17323C7EC9867AA37308
FILE: 03 – Movement.flac
Size: 48022632 Hash: E260CF416F8DF5871913BDBEBF854104 Accuracy: -m40
Conclusion: CDDA 100%
Signature: 6336F13DD5EE7FF11CF07D9526F1BECE43A07433
FILE: 02 – Oak Tree.flac
Size: 36424069 Hash: C29F8C6DA1532856C2E06D37A35C34D1 Accuracy: -m40
Conclusion: CDDA 100%
Signature: 6BC0FBAE4ED47FB7381A6B15ED70AF4B6EF6D78F
FILE: 01 – White Bear.flac
Size: 49443971 Hash: 6DE950F577C542C9F46E0B259EA4D84F Accuracy: -m40
Conclusion: CDDA 100%
Signature: 581993F90D904BE0EC241A14A384F803294C3512
DOWNLOAD LINK