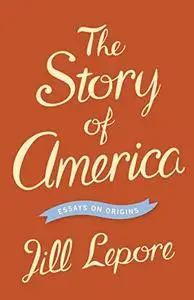 From celebrated writer Jill Lepore, a literary and political history of American origin stories
In The Story of America, Harvard historian and New Yorker staff writer Jill Lepore investigates American origin stories―from John Smith's account of the founding of Jamestown in 1607 to Barack Obama's 2009 inaugural address―to show how American democracy is bound up with the history of print. Over the centuries, Americans have read and written their way into a political culture of ink and type.
Part civics primer, part cultural history, The Story of America excavates the origins of everything from the paper ballot and the Constitution to the I.O.U. and the dictionary. Along the way it presents fresh readings of Benjamin Franklin's Way to Wealth, Thomas Paine's Common Sense, "The Raven" by Edgar Allan Poe, and "Paul Revere's Ride" by Henry Wadsworth Longfellow, as well as histories of lesser-known genres, including biographies of presidents, novels of immigrants, and accounts of the Depression.
From past to present, Lepore argues, Americans have wrestled with the idea of democracy by telling stories. In this thoughtful and provocative book, Lepore offers at once a history of origin stories and a meditation on storytelling itself.
DOWNLOAD LINK