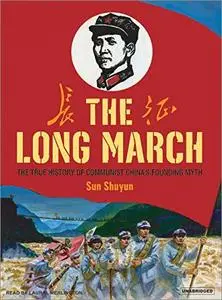 The Long March is Communist China's founding myth, the heroic tale that every Chinese child learns in school. Seventy years after the historical march took place, Sun Shuyun set out to retrace the marchers' steps and unexpectedly discovered the true history behind the legend. The Long March is the stunning narrative of her extraordinary expedition.
The facts are these: In 1934, in the midst of a brutal civil war, the Communist party and its 200,000 soldiers were forced from their bases by Chiang Kaishek and his Nationalist troops. After that, truth and legend begin to blur. Led by Mao Zedong, the Communists set off on a strategic retreat to the distant, barren north of China, thousands of miles away. Only one in five Marchers reached their destination, where, the legend goes, they gathered strength and returned to launch the new China in the heat of revolution.
What emerges from Sun's research, her interviews, and her own memories of growing up in China is a moving portrait of China past and present. Sun finds that the forces at work during the days of the revolution, including the barren, unforgiving landscape; the unifying power of outside threats from foreign countries; Mao's brilliant political instincts and his use of terror, propaganda, and ruthless purges to consolidate power and control the population, are the very forces that made China what it is today.
The Long March is a gripping retelling of an amazing historical adventure, an eye-opening account of how Mao manipulated the event for his own purposes, and a beautiful document of a country balanced between legend and the truth.
DOWNLOAD LINK