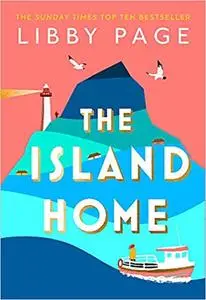 Two decades. Hundreds of miles. A lifetime of secrets. Can coming home mean starting again?
'A perfect, warm escape from these cold, dark times' Kate Eberlen
'Bursting with hope and heart' Cathy Bramley
'Wonderfully engaging . . . beautifully drawn' Mike Gayle
'Radiates warmth, happiness and hope' Veronica Henry
––-
Lorna's world is small but safe.
She loves her daughter, and the two of them is all that matters. But after nearly twenty years, she and Ella are suddenly leaving London for the Isle of Kip, the tiny remote Scottish island where Lorna grew up.
Alice's world is tiny but full.
She loves the community on Kip, her yoga classes drawing women across the tiny island together. Now Lorna's arrival might help their family finally mend itself – even if forgiveness means returning to the past…
––-
Join the community of bestselling authors who love Libby's hopeful, moving storytelling!
'A wonderfully evocative and enveloping novel about the joys and comforts of community and friendship and a perfect, warm escape from these cold, dark times' Kate Eberlen, author of Miss you and Only You
'A tender tale about stepping out of the shadows of the past and navigating the route to a brighter future….this book not only takes the reader on a journey, but reminds us of the importance of finding our way back home' Mike Gayle, author of All The Lonely People
'The Island Home radiates warmth, happiness and hope. Libby is a truly gifted writer who weaves magic with her every word. Every page is a delight – gentle, comforting, reassuring and utterly charming' Veronica Henry, author of The Beach Hut series
'A tender, life-affirming story bursting with hope and heart' Cathy Bramley, author of My Kind of Happy
'A joy-filled love letter to the power of community and connection, and a sensitive commentary on loneliness and forgiveness too, all of which is conveyed with huge warmth and affection' Celia Reynolds, author of Finding Henry Applebee
'A tender, heartfelt story, The Island Home explores every aspect of love and shows us it's never too late to fix what's broken. I left my heart with Lorna and Alice on the Isle of Kip' Lindsey Kelk, author of In Case You Missed It
'A gorgeous, heart-lifting story of families and the secrets that bind us, with a setting that you can lose yourself in' Rachael Lucas, author of The Village Green Bookshop
DOWNLOAD LINK