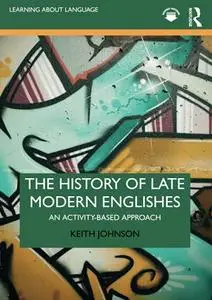 The History of Late Modern Englishes provides an accessible and student-friendly introduction to the history of the English language from the beginning of the eighteenth century up until the present day. Taking an activity-based approach, this text ensures that students learn by engaging with the fascinating evolution of this language rather than by simply reading about it.
The History of Late Modern Englishes:
• Covers the development of Englishes around the world, not only in the British Isles, but also in the United States, Canada, India, Singapore, Australia, New Zealand, and Melanesia, as well as in other countries around the world where English is used as a lingua franca;
• Accommodates the needs of both native and non-native speakers of English, with helpful features such as a glossary of key terms and questions to guide the reader through the book;
• Includes activity sections and discussion points to help students engage with the text;
• Is accompanied by e-resources which include further activities and additional coverage of points of interest in the book.
Written by an experienced teacher and author, this book is an essential course textbook for any module on the history of English and the perfect accompaniment to the author's own The History of Early English.
DOWNLOAD LINK