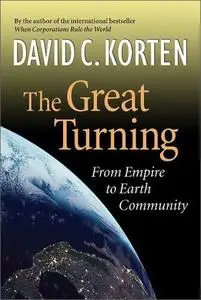 In his classic international best seller, When Corporations Rule the World, David Korten exposed the destructive and oppressive nature of the global corporate economy and helped spark a global resistance movement. Now, he shows that the problem runs deeper than corporate domination with far greater consequences.
Korten argues that global corporate consolidation of power is but one manifestation of what he calls "Empire", the organization of society by hierarchies of dominance that have held sway for the past 5,000 years. Empire has always resulted in misery for the many and fortune for the few. Now it threatens the very future of humanity.
The Great Turning traces the ancient roots of Empire and charts its long evolution from monarchies to the transnational institutions of the global economy. Empire is not inevitable, not the natural order of things, Korten argues. He draws on evidence from sources as varied as evolutionary theory, developmental psychology, and religious teachings to make the case that "Earth Community", a life-centered, egalitarian, sustainable way of ordering human society based on democratic principles of partnership, is indeed possible. He details a practical strategy for advancing a turning toward a future of as-yet-unrealized human potential.
DOWNLOAD LINK