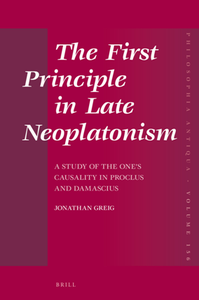 In The First Principle, Jonathan Greig offers a new examination of the Neoplatonic notion of the One and the respective causal frameworks behind the One in the two late Neoplatonists, Proclus and Damascius (5th–6th centuries A.D.).
Jonathan Greig, Ph.D. (LMU Munich, 2018), is a postdoctoral research fellow at the Austrian Academy of Sciences (Institute for Medieval Research). He has published on Neoplatonic metaphysics and its reception in early and late Byzantine philosophy/theology.
If you want to support my blog, then you can buy a premium account through any of my files (i.e. on the download page of my book). In this case, I get a percent of sale and can continue to delight you with new books!
DOWNLOAD LINK