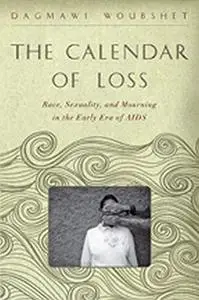 His world view colored by growing up in 1980s Ethiopia, where death governed time and temperament, Dagmawi Woubshet offers a startlingly fresh interpretation of melancholy and mourning during the early years of the AIDS epidemic in The Calendar of Loss.
When society denies a patient's disease and then forbids survivors mourning rites, how does a child bear witness to a parent's death or a lover grieve for his beloved? Looking at a range of high and popular works of grief—including elegies, eulogies, epistles to the dead, funerals, and obituaries—Woubshet identifies a unique expression of mourning that emerged in the 1980s and early 1990s in direct response to the AIDS catastrophe. What Woubshet dubs a "poetics of compounding loss" expresses what it was like for queer mourners to grapple with the death of lovers and friends in rapid succession while also coming to terms with the fact of their own imminent mortality. The time, consolation, and closure that allow the bereaved to get through loss were for the mourners in this book painfully thwarted, since with each passing friend, and with mounting numbers of the dead, they were provided with yet more evidence of the certain fatality of the virus inside them.
Ultimately, the book argues, these disprized mourners turned to their sorrow as a necessary vehicle of survival, placing open grief at the center of art and protest, insisting that lives could be saved through the very speech acts precipitated by death. An innovative and moving study, The Calendar of Loss illuminates how AIDS mourning confounds and traverses how we have come to think about loss and grief, insisting that the bereaved can confront death in the face of shame and stigma in eloquent ways that also imply a fierce political sensibility and a longing for justice.
DOWNLOAD LINK