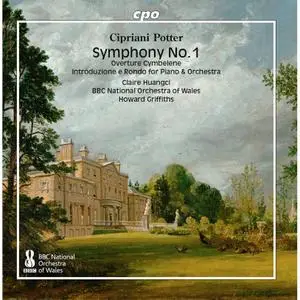 The highly esteemed Cipriani Potter bequeathed a rich compositional oeuvre to posterity. Born in London in 1792, Potter received his education as a composer from Thomas Altwood, William Crotch, and Joseph Wölfl. He later traveled to Vienna, where he continued his studies with Aloys Förster on Beethoven's recommendation. Back in England, he soon became a sought-after composer and pianist. During a commemorative event held by the Musical Association in London, he was praised for his nine symphonies – and in particular for the first, in G minor, which is heard on this new release.
The first movement from the very start attests to Potter's dramatic instinct; his favorite compositions included works charged with suspense like Mozart's overture to Don Giovanni. Potter was one of the first renowned composers from England to write symphonies based on his experience of Mozart's late oeuvre and Beethoven's orchestral music. The furious Allegro con spirito first movement of his G minor Symphony is a bold stroke of genius filled with powerful melodic invention in combination with masterful thematic development.
The phenomenal pianist Potter also repeatedly presented cabinet pieces for the piano. He composed the Introduction followed by a Rondo in the Military Style of 1827 six years before his First Piano Concerto. Like the Variazioni di bravura on a Theme by Rossini for piano and orchestra also dating from the late 1820s or the Introduction and Rondo giocoso for solo piano, they offer listening pleasure in which Potter's humorous side, a trait mentioned by many who knew him, is revealed.
Tracklist:
01. Symphony No. 1 in G Minor- I. Allegro con spirito (8:24)
02. Symphony No. 1 in G Minor- II. Andante quasi alleg (5:16)
03. Symphony No. 1 in G Minor- III. Tempo di minuetta (5:46)
04. Symphony No. 1 in G Minor- IV. Allegro non tanto (5:01)
05. Introduction & Rondo in E-Flat Major -Alla militai (4:59)
06. Introduction & Rondo in E-Flat Major -Alla militai (14:11)
07. Cymbeline (15:20)
FILE: 1. I. Allegro con spirito.flac
Size: 45433773 Hash: 30E2A0FF1AC5FD4D548BD34D860023B4 Accuracy: -m0
Conclusion: CDDA 100%
Signature: 5A48A82CCC432478A6ECD449B4221C93A7C0C803
FILE: 2. II. Andante quasi allegeretto.flac
Size: 24776200 Hash: 59A96A5C65BD15F88EC5946786FD3372 Accuracy: -m0
Conclusion: CDDA 100%
Signature: 9697A7249CF4471E63D40129BEB9C6927CBE1CD0
FILE: 3. III. Tempo di minuetta.flac
Size: 29242104 Hash: 1DD9892610EB269E10D142EC46A6E981 Accuracy: -m0
Conclusion: CDDA 85%
Signature: 6FF3FA5305EC83EB207337C65CFB0927E1D23596
FILE: 4. IV. Allegro non tanto.flac
Size: 26458388 Hash: 3CE0E05C3B5D340B491E51B212F3BAE0 Accuracy: -m0
Conclusion: CDDA 85%
Signature: 959608C15BAE21A2B432A57AAEB39FBD6DC26B2A
FILE: 5. I. Introduzione. Maestoso.flac
Size: 24135423 Hash: 8F8991BF823A9ED73F3577BBE8EB7D15 Accuracy: -m0
Conclusion: CDDA 43%
Signature: EABE8B6668EE4DD219BD2CC787CE78D860915B55
FILE: 6. II. Rondo. Allegro non tanto.flac
Size: 60584253 Hash: 87213955B1F36A5A0C519EFB480404D9 Accuracy: -m0
Conclusion: ???
Signature: 0D35B115F86FB7BFA3E004EBF8B992501EFC4743
FILE: 7. Cymbeline.flac
Size: 72183363 Hash: 2DCFCA78CEF0600373A4620F74E7FA62 Accuracy: -m0
Conclusion: CDDA 43%
Signature: DC7F5C8103335819DDB285E67FDB6C6F672F36D1
DOWNLOAD LINK