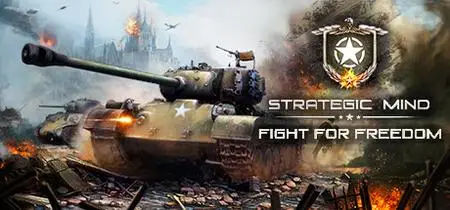 Strategic Mind: Fight for Freedom is a history-driven turn-based strategy set in WW2. You will fight across Europe, Africa, and Burma. Will you spend the time on proper reconnaissance before the attack, or rely on aggressive tactics? Will you use night time or rain to your advantage, sneaking up on enemy positions, or just complain that the weather was unfavorable? Will you help the locals or leave them to their fate? It is up to you to save the stronghold of Democracy and Freedom in Europe from the totalitarian oppression of the Axis powers.
WITNESS WW2 FROM TWO DIFFERENT PERSPECTIVES
The game has 2 campaigns: the British one features fully historical battles, while the US one has historical operations up to the defeat of Germany and also features a number of alternate history battles against the USSR afterward. It is created with great care and attention to historical detail by a team that is passionate about WW2 history.
Lead the British Army as Sir Harold Alexander
Go all the way from Norway landings to the liberation of northern Italy. Command your troops in bitter defeats and in the moments of triumph. Take charge of the Dunkirk evacuation. Fight the Japanese in Burma, and Italians in Africa. Turn the tide of war against Germany at El Alamein. Finish the war in North Africa and lead the victorious landing in Italy in 1943.
Lead the US Army as General Dwight Eisenhower
Go all the way from D-Day landings to the fall of Berlin. Ensure the success of Operation Market Garden, repel the last German offensive at the Ardennes, and strike the killing blow into the heart of the Reich. Then move into the alternate history of 1946 and face your strongest adversary yet – the Red Army. Command US and Allied forces and minimize your losses. Employ the units of all Allied and liberated countries to achieve maximum synergy. Exploit all available means to bring Freedom and Democracy to Eastern Europe.
HISTORICAL OPERATIONS AND "WHAT IF" SCENARIOS
MINIMUM:
Requires a 64-bit processor and operating system
OS: Windows 7 SP1, Windows 8.1, Windows 10 (64-bit versions only)
Processor: Dual-core Intel or AMD, 2.0 GHz or faster
Memory: 4 GB RAM
Graphics: Nvidia GTX 750 Ti or better or AMD HD 7870 or better
DirectX: Version 11
Storage: 25 GB available space
Sound Card: Onboard
RECOMMENDED:
Requires a 64-bit processor and operating system
OS: Windows 7 SP1, Windows 8.1, Windows 10 (64-bit versions only)
Processor: Dual-core Intel or AMD, 2.5 GHz or faster
Memory: 8 GB RAM
Graphics: AMD RX 470 or Nvidia GTX 1050 or better
DirectX: Version 11
Storage: 25 GB available space
Sound Card: Onboard
DOWNLOAD LINK