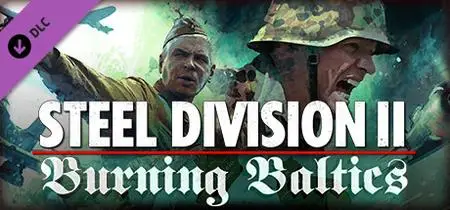 Steel Division 2: Burning Baltics is the latest History Expansion for Steel Division 2, the popular World War 2 RTS set on the Eastern Front. One of the last major German successful offensives of the war takes center stage in this in-depth expansion: the Axis counter-offensive in the Baltics – Operation Doppelkopf.
It is late summer 1944, and the Wehrmacht is reeling from the massive blows inflicted by the Soviets during Operation Bagration. In the Baltics, the Red Army has reached the Gulf of Riga, severing the connection between Army Group North and what is left of Army Group Centre.
Reestablishing this link with the Latvian capital Riga is the prime objective as several formations, including the elite "Grossdeutschland", are hastily assembled for an armored counter-attack. Nearby Kriegsmarine heavy cruisers will be able to provide crucial fire support. For once, the Soviets can be taken by surprise…
Steel Division 2: Burning Baltics greatly enhances your Steel Division 2 experience with one massive new Army General campaign, 8 new Divisions playable in solo, coop or multiplayer, 120+ new units, 2 new Nations and 2 new Aces.
MINIMUM:
OS: 64-bit Windows 10 / 8.1 / 7 with Service Pack 1
Processor: Intel Celeron G4920 (Legacy: i3-2100) , AMD Athlon 200GE
Memory: 4 GB RAM
Graphics: Nvidia GeForce GT 1030 (Legacy: Nvidia GeForce GTS 450), AMD Radeon RX 460 (Legacy: ATI Radeon HD 5570)
DirectX: Version 11
Storage: 1 GB available space
RECOMMENDED:
OS: 64-bit Windows 10 / 8.1 / 7 with Service Pack 1
Processor: 4 cores Intel | AMD CPU (Intel i3-8100, AMD Ryzen 3 1200)
Memory: 8 GB RAM
Graphics: Nvidia Geforce GTX 1060 3 GB (Legacy: Nvidia Geforce GTX 780), AMD Radeon RX 580 (Legacy: AMD Radeon R9 290X)
DirectX: Version 11
Storage: 1 GB available space
DOWNLOAD LINK