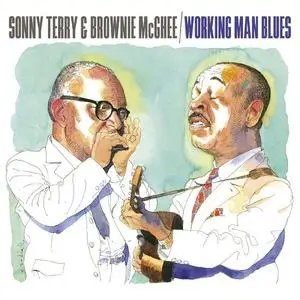 Sonny Terry and Brownie McGhee were performing together since 1939 -probably longer than any working blues or folk duo or group. The brand of blues that Mr. Terry and Mr. McGhee learned to play has been called Piedmont blues after the region in the Southeast. Unlike the blues performers of Mississippi and Texas, many of whom grew up in rigidly segregated societies and played exclusively for blacks, Piedmont bluesmen often lived near whites and learned to play a variety of tunes – ragtime, gospel, ballads, old minstrel show songs, even white hoedown music in addition to blues.
Disc One reflects two separate sessions; the first recorded in the late '50s and represents their acoustic blues. The second session was recorded in one three hour studio booking. in German while on tour. Disc Two consists of two live concerts from 1974 previously unreleased.
Track List:
CD1
1. Careless Love
2. Worried Life Blues
3. I'm Going Down Slow
4. Key to the Highway
5. That Good Old Jelly Roll
6. C.C. Rider
7. When the Saints Go Marching
8. Cornbread, Peas, and Molasses
9. Crawdad Hole
10. Raise a Rukus Tonight
11. I Can't See Why My Baby Don't Write to Me
12. Conversation With the River
13. I Feel So Good
14. Different Blues
15. Going to Kansas City
16. Freight Train
17. Sweetheart
18. I Got My Eyes on You
19. I Love You Baby, Please Don't Go
20. Blues, Blues, Blues
21. Mean Woman Blues
CD2
22. Ride and Roll (Live)
23. I Got a Woman (Live)
24. Sonny Recalls Finian's Rainbow Audition (Intro) (Live)
25. Hootin' Blues (Live)
26. I Feel Alright Now (Live)
27. I Was Born With the Blues (Live)
28. Backwater Blues (Live)
29. One Monkey Don't Stop No Show (Live)
30. Christina (Live)
31. You Gotta Be a Good Lover (Live)
32. Worry Worry Worry (Live)
33. The Things I Use to Do I Ain't Going to Do No More (Live)
34. C.C. Rider (Live)
35. Burnt Child Afraid of Fire (Intro) (Live)
36. Burnt Child Afraid of Fire (Live)
37. Dissatisfied Blues (Live)
38. Gonna Find Me a Woman (Live)
39. Change the Locks on the Door (Live)
40. Walk On (Live)
ANALYZER: auCDtect: CD records authenticity detector, version 0.8.2
Copyright © 2004 Oleg Berngardt. All rights reserved.
Copyright © 2004 Alexander Djourik. All rights reserved.
FILE: 01 – Careless Love.flac
Size: 19934475 Hash: 36C254E0FFD1020DAEE6EE030B438178 Accuracy: -m40
Conclusion: CDDA 100%
Signature: 06FB6DE187E770DADA36AD3BB4A5394490A4C70C
FILE: 02 – Worried Life Blues.flac
Size: 24914396 Hash: 4868B3F89277D0E7E48A50B432B4CEE1 Accuracy: -m40
Conclusion: CDDA 100%
Signature: 80C14534A5EF101BB467B85B6DF855A133FE5EFF
FILE: 03 – I'm Going Down Slow.flac
Size: 26484757 Hash: 2BCE696E045C120EF256D140E7B9A389 Accuracy: -m40
Conclusion: CDDA 100%
Signature: 1661BC4A9877B6D357DCAC3FC5D3751401903AA5
FILE: 04 – Key to the Highway.flac
Size: 20108229 Hash: D5BF125FF1C3EE2F515CF77AF4E916AC Accuracy: -m40
Conclusion: CDDA 100%
Signature: 38A53BF4A93B483023426945A513DC0FBF2DF970
FILE: 05 – That Good Old Jelly Roll.flac
Size: 26400379 Hash: FCFDB94C48B2E009115234B809C46AB3 Accuracy: -m40
Conclusion: CDDA 100%
Signature: 4657E795E643C5FC7430B07316EF1CE7E92E93A5
FILE: 06 – C.C. Rider.flac
Size: 24070040 Hash: EE823A08BFC1E0034AA897BAEE1BF309 Accuracy: -m40
Conclusion: CDDA 100%
Signature: 9ECD467B2E0CBD1AE89DC1D284D69A2FAE5E2A7E
FILE: 07 – When the Saints Go Marching.flac
Size: 21686810 Hash: 72D09EC1E657569AC856D92DD671D28D Accuracy: -m40
Conclusion: CDDA 100%
Signature: 54D34AC8584D8E6A3606C2E4DA291C654F0333A6
FILE: 08 – Cornbread, Peas, and Molasses.flac
Size: 19118894 Hash: 4EA9838E681D2A3AC1A0DEA312EDC90E Accuracy: -m40
Conclusion: CDDA 100%
Signature: CB59509FCD6F066C5AB50DA1BEE07C03502B966D
FILE: 09 – Crawdad Hole.flac
Size: 23007972 Hash: 13A2B697C1D7062330FCF558DC468009 Accuracy: -m40
Conclusion: CDDA 100%
Signature: CB05966077BC8E89C9BB06F9AADF3C745C6945EF
FILE: 10 – Raise a Rukus Tonight.flac
Size: 23156534 Hash: 80113985ECDA1EA4E703CF961D38C06E Accuracy: -m40
Conclusion: CDDA 100%
Signature: 14C255FC9DB2EF4D1BD6A04A60AF3755765E4A76
FILE: 11 – I Can't See Why My Baby Don't Write to Me.flac
Size: 21514125 Hash: AA71A19511FA2A469DA1040F30D12F5A Accuracy: -m40
Conclusion: CDDA 100%
Signature: D5D3F9672B69AB557A8FBCF8BDF5E1FCB2A5BB08
FILE: 12 – Conversation With the River.flac
Size: 17711118 Hash: B7E45A10217F3869AA17B966BAC82AF8 Accuracy: -m40
Conclusion: CDDA 100%
Signature: 1AB70770185E6006AEE04460436DF05E5E34A815
FILE: 13 – I Feel So Good.flac
Size: 29066085 Hash: 84642F7E763EECE914B7A760F3508B53 Accuracy: -m40
Conclusion: CDDA 100%
Signature: CAE4A69A15719DAD1C36846A1A79EFED0A6251E2
FILE: 14 – Different Blues.flac
Size: 29953551 Hash: CC9F7B781B105E7887A0028FB973345B Accuracy: -m40
Conclusion: CDDA 100%
Signature: 38F8B50ADEE1055D2B227E928D48DE1FC557F831
FILE: 15 – Going to Kansas City.flac
Size: 25042366 Hash: CE0A177136D79814CE1D6606E86C0648 Accuracy: -m40
Conclusion: CDDA 100%
Signature: 811DE5FB7DDBA5A1B65803FA6BC87FB1D9F144E6
FILE: 16 – Freight Train.flac
Size: 27076034 Hash: 012E1185C7DB8C983E6E59802DA5479E Accuracy: -m40
Conclusion: CDDA 100%
Signature: 20DC7D7356BCACE237CB7924EE22F8468262798F
FILE: 17 – Sweetheart.flac
Size: 23182502 Hash: 3AB13F31D704910757265593C220D99E Accuracy: -m40
Conclusion: CDDA 100%
Signature: 3CEDC15DA5BB228AFF693968D57105833932EC81
FILE: 18 – I Got My Eyes on You.flac
Size: 24130764 Hash: B0C7DED2B78C7C0CE86DD68674A1D944 Accuracy: -m40
Conclusion: CDDA 100%
Signature: 151457614261F43ABEFED823740BF0513DCD7B6A
FILE: 19 – I Love You Baby, Please Don't Go.flac
Size: 23336044 Hash: 2DB9DBF0B6D2E1EA2165DD9B6FFD5BBF Accuracy: -m40
Conclusion: CDDA 100%
Signature: 43356A82AFC04D961A7276FE927D330A92609514
FILE: 20 – Blues, Blues, Blues.flac
Size: 29550109 Hash: 87877C3097C4702FB2F72463EA094EE9 Accuracy: -m40
Conclusion: CDDA 100%
Signature: A88D7AA7E4F2BF96007CED8FC1A06C71B6D8C5E0
FILE: 21 – Mean Woman Blues.flac
Size: 19869141 Hash: 2AF4058168C7597159FC59933BA841C9 Accuracy: -m40
Conclusion: CDDA 100%
Signature: 200144EF90D66DE7CF462B465F88CFCA3891AD48
FILE: 01 – Ride and Roll (Live).flac
Size: 24337341 Hash: 65918FC7F3D4796FBA27352AA6915639 Accuracy: -m40
Conclusion: CDDA 100%
Signature: 32773CA42627AB4880B5CB289A491446E1B21EAD
FILE: 02 – I Got a Woman (Live).flac
Size: 31769192 Hash: 740E8CCE5993ACB094C33465B1E2E093 Accuracy: -m40
Conclusion: CDDA 100%
Signature: ADB57233C09646EACF7BA98707DAABED4415B064
FILE: 03 – Sonny Recalls Finian's Rainbow Audition (Intro) (Live).flac
Size: 5535179 Hash: 079818E8651A92A8287C0A9C077D3F58 Accuracy: -m40
Conclusion: ???
Signature: 6DB9FF268C4E8CC3FB641DE5D7FF2A9F68FB7E40
FILE: 04 – Hootin' Blues (Live).flac
Size: 14515675 Hash: FF7D9BC0664041192C73CE494A964890 Accuracy: -m40
Conclusion: ???
Signature: E33EB12961E93250172DEE7759A539C05E803A0B
FILE: 05 – I Feel Alright Now (Live).flac
Size: 26392727 Hash: 3AD606A686A0DB44B2503C9AF71318C5 Accuracy: -m40
Conclusion: CDDA 100%
Signature: D4BCD2DAE087715B702A103876C6601B5E62D338
FILE: 06 – I Was Born With the Blues (Live).flac
Size: 24379790 Hash: 84FAE160C10FD2F21DEE3B25E9378F8B Accuracy: -m40
Conclusion: CDDA 100%
Signature: 97392F6F4E619677D28627E2C29A0E2B60F5CC84
FILE: 07 – Backwater Blues (Live).flac
Size: 34680407 Hash: CCA2E6D444A336B1FCE00987649CB8BA Accuracy: -m40
Conclusion: CDDA 99%
Signature: 7667D5131D0979D31D61B98F2CE7420547BBE250
FILE: 08 – One Monkey Don't Stop No Show (Live).flac
Size: 17099138 Hash: 7A7DDC9F8D1AC186D007C67C243F3CB7 Accuracy: -m40
Conclusion: CDDA 100%
Signature: 59730D5D4BCBDAB13E0E819B62AB3121A2104B69
FILE: 09 – Christina (Live).flac
Size: 22464197 Hash: 7C7B32A543CC9CF5A75FF4932B25110E Accuracy: -m40
Conclusion: CDDA 100%
Signature: D9DA3A11C08FF8D243210D2C033DE16D4D063183
FILE: 10 – You Gotta Be a Good Lover (Live).flac
Size: 21399274 Hash: 9B49F8AD910494AEF6A010043F0F2C39 Accuracy: -m40
Conclusion: CDDA 100%
Signature: 2FCBDF91E871A4FD2DFCFCA3FDC6223EA7B42494
FILE: 11 – Worry Worry Worry (Live).flac
Size: 34606837 Hash: 81984168948C3F8D0C8DB5DB976606A8 Accuracy: -m40
Conclusion: MPEG 95%
Signature: 032630E5F85674E5A0CA9897243DF5A72A3E7D19
FILE: 12 – The Things I Use to Do I Ain't Going to Do No More (Live).flac
Size: 16056458 Hash: 46BD6E258B3A7F5648B0406575D9CC0B Accuracy: -m40
Conclusion: ???
Signature: 6CDA3F0969371EA9B65FF950CAB5E443CCA1ACA5
FILE: 13 – C.C. Rider (Live).flac
Size: 24987005 Hash: 1265833EBCC4DD16EBC5926262F35FAC Accuracy: -m40
Conclusion: CDDA 100%
Signature: 5F10E93F7500F1E9B8E785384F31064CAE5DE2EC
FILE: 14 – Burnt Child Afraid of Fire (Intro) (Live).flac
Size: 1821147 Hash: C148745142A590121C827A666865C41C Accuracy: -m40
Conclusion: ???
Signature: C58389BBB9122BB2E1F20F5F86F77FEE6FEB7674
FILE: 15 – Burnt Child Afraid of Fire (Live).flac
Size: 19643451 Hash: 5894D61AF20DCC8555EDDE42A3D76985 Accuracy: -m40
Conclusion: CDDA 100%
Signature: 56DD99C2719D1938567652599567F10366180FF7
FILE: 16 – Dissatisfied Blues (Live).flac
Size: 24843063 Hash: 0FB67F79BF9B7868967E337D37583BD4 Accuracy: -m40
Conclusion: CDDA 100%
Signature: ADF873E483C4F18D16E2DBA513F7AE11194DB43F
FILE: 17 – Gonna Find Me a Woman (Live).flac
Size: 27611964 Hash: 7BEDD077C0F016329C242ED9E70717BF Accuracy: -m40
Conclusion: CDDA 100%
Signature: 90F26D2DEE389BEAF14D8613BA2AE6A6E9509993
FILE: 18 – Change the Locks on the Door (Live).flac
Size: 32005805 Hash: C9ABAAF68FEFCB5F401DB7CC6B54D42E Accuracy: -m40
Conclusion: CDDA 100%
Signature: 08E47A88465FA718A53433400FEBCE96868AB85D
FILE: 19 – Walk On (Live).flac
Size: 32617603 Hash: A661245D05781502418E5494534E063C Accuracy: -m40
Conclusion: CDDA 100%
Signature: A3FD199072015ED6F4769E6B4D5B1E0B47A6E21A
DOWNLOAD LINK