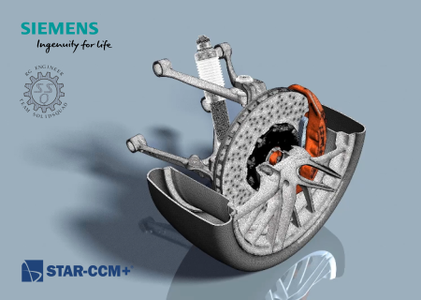 The Siemens Digital Industries Software development team is pleased to announce the availability of Simcenter STAR-CCM+ 2021.2.1. This update include bug fixes that improve the 2021.2 release.
Fixes in Update Release of Simcenter STAR-CCM+ 2021.2.1
This section details the fixes that were introduced in the update release of Simcenter STAR-CCM+ 2021.2.1.
– CADC-1511 Allow Simcenter STAR-CCM+ Clients for CAD and Simcenter STAR-CCM+ to support the NX1980 Series.
– CADM-8835 Add the missing Color option in the 3D-CAD Design Filter model tree menu for edge/face filter results.
– CADX-1620 Implement Siemens Adapter support for NX1980.
– CF-1874 Fix the object selection button in the File property of the Replace Part operation.
– CF-1921 Allow the user to enter a non-existent destination for output for the scene Update and for the simulation operations Export operation.
– DEP-2939 Fix the inability of the Simcenter STAR-CCM+ Windows installer to use the Network path option.
– HEAT-1130 Fix a non-recoverable error that occurs during view factors calculation.
– PVIZ-6281 Fix a code vulnerability in the .sce file that causes unspecified errors while opening thumbnail images in Simcenter STAR-CCM+ Viewer.
– REA-4036 Modify the model selection process so that species is activated before the activation of the Complex Chemistry/Turbulent Flame Speed Closure reacting flow model.
Simcenter STAR-CCM+ is a complete multiphysics solution for the simulation of products and designs operating under real-world conditions. Uniquely, Simcenter STAR-CCM+ brings automated design exploration and optimization to the simulation toolkit of every engineer, allowing you to efficiently explore the entire design space instead of focusing on single point design scenarios.
Spaceflight is facing a massive revival, hypersonic flights are about to experience a renaissance in civil aviation, more down to earth applications like home appliances need to continue to get more eco-friendly, medical devices like heart valves have the potential to save the life of millions and the everlasting engineering challenge of getting the heat out of all things hot remains a billion-dollar challenge across all industries.
And while all these applications have the potential to change human lives for the better they come along with an ever-increasing engineering complexity.
The key to cope with this complexity is the uncompromising implementation of a digital twin and simulation technology. And yet simulation can only bring value if it models that complexity and if at the same time engineers can do simulations quickly enough to influence design. Hence, to keep the competitive edge, companies need to equip their simulation engineers with CFD software that delivers high-fidelity physics models, smart simulation techniques and fast meshing technologies.
With this mission in mind, Simcenter STAR-CCM+ 2021.2 delivers new features across the entire simulation workflow to help you engineer innovative and better performing products, faster – from hyper-sonic spacecrafts to life-saving heart-valves.
WHAT'S NEW Simcenter STAR-CCM+ 2021.2
Siemens PLM Software a business unit of the Siemens Digital Factory Division, is a leading global provider of software solutions to drive the digital transformation of industry, creating new opportunities for manufacturers to realize innovation. With headquarters in Plano, Texas, and over 140,000 customers worldwide, Siemens PLM Software works with companies of all sizes to transform the way ideas come to life, the way products are realized, and the way products and assets in operation are used and understood.
Product: Siemens Simcenter Star CCM+
Version: 2021.2.1 Build 16.04.012 *
Supported Architectures: x64
Website Home Page : http://mdx.plm.automation.siemens.com/
Languages Supported: multilanguage
System Requirements: PC **
Size: 7.3 Gb
Siemens Star CCM+ 2021.2.1 (16.04.012 single precision) Win64
Siemens Star CCM+ 2021.2.1 R8 (16.04.012-R8 double precisio) Win64
Newly certified operating systems (OS)
– Windows 10 May 2020 (20H1), Windows 10 Oct 2020 (20H2)
These are the recommended hardware requirements to run Simcenter STAR-CCM+ and the CAD Clients. You can improve performance by using better specifications than those listed.
– Processor: 2.4 GHz CPU with at least 4 cores per CPU (to allow client and server to work in separate spaces and to run in parallel)
– Memory: 4 GB of memory per core.
– Disk Space: 9 GB of free disk space (more space is required to save simulations).
– Graphics Card: Dedicated graphics hardware that has 3D capability, z-buffer and translucency. Minimum screen resolution of 1024×768 pixels is recommended.
DOWNLOAD LINK