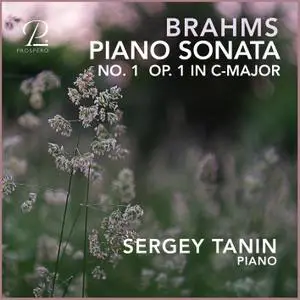 He is already being compared to Daniil Trifonov: the young Siberian pianist Sergey Tanin. Without question – the musician is already one of the most promising pianists of his generation. He gained his first international recognition at the Géza Anda Competition in Zurich, 2018 (3rd prize and audience award). In October 2020, he won first prize at the renowned Kissinger KlavierOlymp. Now he presents his debut album on Prospero Classical. With works by Johannes Brahms, Schubert-Liszt and Sergey Prokofiev, he can impressively demonstrate both his interpretational depth and his musicality and virtuosity.

Born in 1995 in Siberia/Yakutia, Sergey Tanin started to play the piano at the age of 5. At 11, he already performed with the Moscow Symphony Orchestra in the Great Hall of the Tchaikovsky Conservatory in Moscow. After his graduation in 2019 from Moscow Conservatory (class of prof. Irina Plotnikova), Sergey continued to study at Basel Musik Academie with Claudio Martinez-Mehner. He is holder of the Swiss Government Excellence Scholarship and in 2020, the Swiss Television (SRF) released a documentary about Sergey – "The Pianist who came in from the Cold".
Tracklist:
1. Piano Sonata No. 1 in C Major, Op. 1: I. Allegro (11:18)
2. Piano Sonata No. 1 in C Major, Op. 1: II. Andante (04:51)
3. Piano Sonata No. 1 in C Major, Op. 1: III. Scherzo. Allegro molto e con fuoco (05:39)
4. Piano Sonata No. 1 in C Major, Op. 1: IV. Finale. Allegro con fuoco (06:34)
–––––––––––-
DON'T MODIFY THIS FILE
–––––––––––-
PERFORMER: auCDtect Task Manager, ver. 1.6.0 RC1 build 1.6.0.1
Copyright © 2008-2010 y-soft. All rights reserved
ANALYZER: auCDtect: CD records authenticity detector, version 0.8.2
Copyright © 2004 Oleg Berngardt. All rights reserved.
Copyright © 2004 Alexander Djourik. All rights reserved.
FILE: 04 – Sergey Tanin – Brahms- Piano Sonata No. 1 in C Major, Op. 1- IV. Finale. Allegro con fuoco.flac
Size: 22771514 Hash: 9569164D3F0A0211549C8E82F3237A28 Accuracy: -m8
Conclusion: CDDA 99%
Signature: 3779DE956EDC7EDD8359E948B8CF7C3E41F3ADD3
FILE: 03 – Sergey Tanin – Brahms- Piano Sonata No. 1 in C Major, Op. 1- III. Scherzo. Allegro molto e con fuoco.flac
Size: 18582911 Hash: 44583863DF6799A6F739FB941C7E4D7A Accuracy: -m8
Conclusion: CDDA 100%
Signature: 4A1497950B94C4D3B0788AF7F5C3E748D52441DF
FILE: 02 – Sergey Tanin – Brahms- Piano Sonata No. 1 in C Major, Op. 1- II. Andante.flac
Size: 11137129 Hash: 6D4CA4BF1E06B7D07C2AEFD6EB270EB1 Accuracy: -m8
Conclusion: CDDA 100%
Signature: 2BB7D4330B12EFDD370375C45CCE9C449A91F60D
FILE: 01 – Sergey Tanin – Brahms- Piano Sonata No. 1 in C Major, Op. 1- I. Allegro.flac
Size: 33979122 Hash: DDB8CF2EED2284672A45B6B552725E62 Accuracy: -m8
Conclusion: CDDA 100%
Signature: 1B67382F25AEFAB3F1ADC6FC4A464EA99385CC44
DOWNLOAD LINK