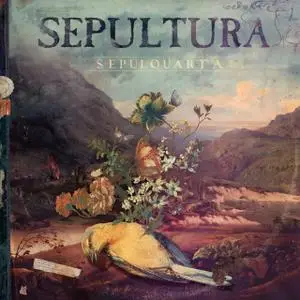 While the pandemic paralyzed the entire world and prevented bands from touring, Latin America's biggest metal export Sepultura refused to sit back and act like an animal trapped in a cage. Like the flowers growing out of the deceased bird's body depicted on the stunning colourful cover artwork by Eduardo Recife, the thrash metal pioneers from Belo Horizonte made good use of their unexpected free time to start a project that kept them busy throughout the entirety of 2020: SepulQuarta was born at the very beginning of the pandemic when everything was halted", guitarist Andreas Kisser remembers. "We had a new album out, but we couldn't tour for it. Therefore, we created this recurring event where we could talk with our fans around the world, play our music and exchange ideas, it was a blast! SepulQuarta kept us alive and strong throughout one of the most difficult times in human history."

Obviously, the Brazilian pioneers were not the only musicians feeling this way, so they started to connect with friends and colleagues worldwide and asked them to not only be part of their weekly podcast, but also join them in playing one of Sepultura's classics tracks. From the safety of their homes, international stars like David Ellefson, Scott Ian, Danko Jones, Devin Townsend, Matt Heafy and many more recorded a Sepultura track together with the band, which have now been mixed and mastered by Conrado Ruther.
Tracklist:
1. Territory (feat. David Ellefson) (04:50)
2. Cut-Throat (feat. Scott Ian) (02:44)
3. Sepulnation (feat. Danko Jones) (04:20)
4. Inner Self (feat. Phil Rind) (05:10)
5. Hatred Aside (feat. Fernanda Lira & Mayara Puertas) (04:03)
6. Mask (feat. Devin Townsend) (04:41)
7. Fear, Pain, Chaos, Suffering (feat. Emmily Barreto) (03:44)
8. Vandals Nest (feat. Alex Skolnick) (02:56)
9. Slave New World (feat. Matthew K. Heafy) (02:55)
10. Ratamahatta (feat. Charles Gavin & Joao Barone) (04:12)
11. Apes of God (feat. Rob Cavestany) (03:16)
12. Phantom Self (feat. Mark Holcomb) (05:27)
13. Slaves of Pain (feat. Fred Leclercq & Marcello Pompeu) (04:06)
14. Kaiowas (feat. Rafael Bittencourt) (04:14)
15. Orgasmatron (feat. Phil Campbell) (04:18)
–––––––––––-
DON'T MODIFY THIS FILE
–––––––––––-
PERFORMER: auCDtect Task Manager, ver. 1.6.0 RC1 build 1.6.0.1
Copyright © 2008-2010 y-soft. All rights reserved
ANALYZER: auCDtect: CD records authenticity detector, version 0.8.2
Copyright © 2004 Oleg Berngardt. All rights reserved.
Copyright © 2004 Alexander Djourik. All rights reserved.
FILE: 15 Orgasmatron.flac
Size: 36881120 Hash: 3E7B7F8B6F0DD61749B9A0A58AE51DAE Accuracy: -m8
Conclusion: ???
Signature: 4B25CC8B0D10D6ED450111CB2A1D74DD67D0E783
FILE: 14 Kaiowas.flac
Size: 27379330 Hash: CFCB4332686EC93FD0D62E7FAFD35E2A Accuracy: -m8
Conclusion: CDDA 99%
Signature: F3099A6A44EED576E83BE5BE0FA0421B87F194DF
FILE: 13 Slaves of Pain.flac
Size: 34199469 Hash: 7BBD27120E7066917BFEA7046C51274A Accuracy: -m8
Conclusion: CDDA 100%
Signature: 807FB95DF7C76AD6F9A4F7FA005EA0B74DD8537F
FILE: 12 Phantom Self.flac
Size: 46840646 Hash: 6A087D07889C1F0E5D9D60B7218C0567 Accuracy: -m8
Conclusion: CDDA 100%
Signature: 10EAEC62853963A455C9B3012458E4C7A26A48B9
FILE: 11 Apes of God.flac
Size: 26583543 Hash: 674C506521AAD2B70333AA65C9D8717E Accuracy: -m8
Conclusion: CDDA 100%
Signature: 564CEB36A88A5A9AB4014D2E68035BFBB06AE768
FILE: 10 Ratamahatta.flac
Size: 33188661 Hash: 8694C2F12FB119EF26040F9B0B874319 Accuracy: -m8
Conclusion: CDDA 99%
Signature: B4BE8651150683373ED8070BA48926CD9C007AD2
FILE: 09 Slave New World.flac
Size: 24231271 Hash: 33D9EB9F00385BFC44CAF8852D4F6CDE Accuracy: -m8
Conclusion: CDDA 99%
Signature: D3F8AEEDEE618DF50E18AA6B9A357D8045D3D4D9
FILE: 08 Vandals Nest.flac
Size: 24460801 Hash: 11E98B2DFEDA904EC2B27D03DC58E9E6 Accuracy: -m8
Conclusion: CDDA 100%
Signature: C3F730A09747E946C3FE78DB7DAA54ECE9B33213
FILE: 07 Fear, Pain, Chaos, Suffering.flac
Size: 28359440 Hash: E391E8FA9903268220F8B731FEF4E048 Accuracy: -m8
Conclusion: CDDA 43%
Signature: EA397F449DDF88F9D73940DF26D655BA43A1B73B
FILE: 06 Mask.flac
Size: 37633087 Hash: 468598F9726772214E700512B54355EB Accuracy: -m8
Conclusion: CDDA 100%
Signature: 79756C6749FADF4C6BA7B5CBA2F9AC4F5CF67378
FILE: 05 Hatred Aside.flac
Size: 32756861 Hash: CF4FA17BD956BEF7B336E85EBDA31C2F Accuracy: -m8
Conclusion: CDDA 87%
Signature: 259B297902640DC30E891926D7BCA2EAF0425CAC
FILE: 04 Inner Self.flac
Size: 44099836 Hash: 2EF52604D86B4C2B96D537670A84453F Accuracy: -m8
Conclusion: CDDA 43%
Signature: 68A62519432668AADCAF1F907392E197E2AAF8DA
FILE: 03 Sepulnation.flac
Size: 35435971 Hash: 4FFCD4F10D19DB2147ADF82E9B2EF517 Accuracy: -m8
Conclusion: CDDA 100%
Signature: 2F4D6B38D3C14A27AD7FC038B345ACC8E1550046
FILE: 02 Cut-Throat.flac
Size: 23101659 Hash: 7F5FCDC8653EC12CDA28CAE1644B4A69 Accuracy: -m8
Conclusion: CDDA 42%
Signature: F489B94EFD64C3787FA54411350EDE1F9B2F76AC
FILE: 01 Territory.flac
Size: 38370114 Hash: D9355B13FE1606C9272C8EE81FEF46A5 Accuracy: -m8
Conclusion: CDDA 100%
Signature: 6D2B67FC113CD811489DDFADB15652C44E885A32
DOWNLOAD LINK