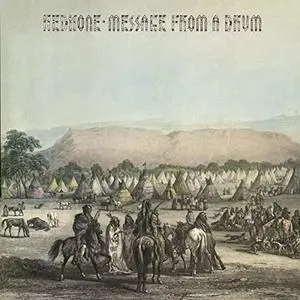 Redbone was a Los Angeles-based group led by Native American Pat and Lolly Vegas. They hit paydirt in 1974 with the million-seller 'Come and Get Your Love.' Lead singers Pat and Lolly Vegas had previously worked under their own names, appearing in the 1965 film It's a Bikini World prior to forming Redbone. Their first success as Redbone came in 1970 with 'Maggie' on Epic. 'The Witch Queen of New Orleans' did somewhat better the next year.
TRACKLIST
01. Redbone – Message from a Drum
02. Redbone – Niji Trance
03. Redbone – The Sun Never Shines on the Lonely
04. Redbone – Maxspilivitz
05. Redbone – Emotions
06. Redbone – Jerico
07. Redbone – The Witch Queen of New Orleans
08. Redbone – When You Got Trouble
09. Redbone – Perico
10. Redbone – Fate
11. Redbone – One Monkey
12. Redbone – Chant: 13th Hour (7″ Version)
–––––––––––-
DON'T MODIFY THIS FILE
–––––––––––-
PERFORMER: auCDtect Task Manager, ver. 1.6.0 RC1 build 1.6.0.1
Copyright © 2008-2010 y-soft. All rights reserved
http://y-soft.org
ANALYZER: auCDtect: CD records authenticity detector, version 0.8.2
Copyright © 2004 Oleg Berngardt. All rights reserved.
Copyright © 2004 Alexander Djourik. All rights reserved.
FILE: 12 – Redbone – Chant- 13th Hour (7- Version).flac
Size: 21068847 Hash: 41D722156A84B5CFCDFF67AA9B085107 Accuracy: -m0
Conclusion: CDDA 100%
Signature: 089D9531E3CCCFDA2596B778F97F1DD5B827B547
FILE: 11 – Redbone – One Monkey.flac
Size: 31874746 Hash: 95FE22A44DBEC710D5D92108A6225BD0 Accuracy: -m0
Conclusion: CDDA 100%
Signature: 72ACB8689EB0299EBA5C48B50CBA1F82B90C8819
FILE: 10 – Redbone – Fate.flac
Size: 54489871 Hash: A861D5CDC83E45FA957CC6DB3588FD5E Accuracy: -m0
Conclusion: CDDA 100%
Signature: D2C6136CE3F7A36C80238592A9BC9CA4FB9A523B
FILE: 09 – Redbone – Perico.flac
Size: 1984010 Hash: D14C67715BF3D775F39B5ADC55050121 Accuracy: -m0
Conclusion: CDDA 100%
Signature: E0D0FE9490583DF8FE80D14348F1E66ACAAA740F
FILE: 08 – Redbone – When You Got Trouble.flac
Size: 29079426 Hash: 86DFE527587A6440CC025AEFB7994524 Accuracy: -m0
Conclusion: CDDA 100%
Signature: C2E700C7ADB7EEE3CBB16C3E0D58FA30399F2A74
FILE: 07 – Redbone – The Witch Queen of New Orleans.flac
Size: 21782060 Hash: 18D1C7665A4C5DD328E8074A4C2C5A5D Accuracy: -m0
Conclusion: CDDA 100%
Signature: 25D222C90F814402B4A3EE3539930732DE615553
FILE: 06 – Redbone – Jerico.flac
Size: 30785559 Hash: C4D5261BF35E350DA8DEF26BE96889B1 Accuracy: -m0
Conclusion: CDDA 100%
Signature: DBA4450385EB597FD6B3198D09D1347F465BB430
FILE: 05 – Redbone – Emotions.flac
Size: 32251842 Hash: 61A48038A784699BA65498634DC9B145 Accuracy: -m0
Conclusion: CDDA 100%
Signature: 7E26AD570D3FD5F99399778760E5854FE82912CA
FILE: 04 – Redbone – Maxspilivitz.flac
Size: 1967569 Hash: 16659B3BE458F6AF550C871D6923B616 Accuracy: -m0
Conclusion: CDDA 100%
Signature: 4DFD9A068DDD9E6B127FD924CE867E42A89CAD83
FILE: 03 – Redbone – The Sun Never Shines on the Lonely.flac
Size: 19364153 Hash: 02F39EB35CB533652366C0AB743B5473 Accuracy: -m0
Conclusion: CDDA 99%
Signature: 0F44E56D057F970CC4D5C7058BA18E8D93A60843
FILE: 02 – Redbone – Niji Trance.flac
Size: 27016467 Hash: D16153EF18BFC1408A0F6EF36ADF097C Accuracy: -m0
Conclusion: CDDA 100%
Signature: B5BD514F938908FD86ED3BAD118BC9621F72D251
FILE: 01 – Redbone – Message from a Drum.flac
Size: 22316639 Hash: 9E97A21C6D07A3663A5650B5C9E32366 Accuracy: -m0
Conclusion: CDDA 100%
Signature: 3BFB5DD086615FD9E5A9426A51FCEEA0DEFB2C8D
All thanks go to the original releaser
DOWNLOAD LINK