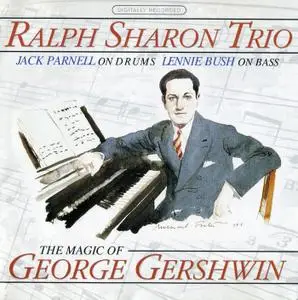 Wonderful CD by legendary pianist, arranger and band leader Ralph Sharon constitute exciting additions to Avid's Essential Collection series. Born in London in 1926 Ralph Sharon is arguably one of the great unsung heroes of British popular music. Playing with such British greats as Ted Heath, Ronnie Scott and Victor Feldman before leaving for the USA where after becoming an American citizen he went on to become musical director and accompanist to Buddy Rich, Rosemary Clooney, Mel Torme, Carmen McCrae, Peggy Lee and most famously Tony Bennett. On these delightful recordings Ralph is joined for the first time in 40 years by old sparring partners Jack Parnell on drums and Lennie Bush on bass to pay tribute to some of the greatest songwriters America has ever produced. All three musicians play as if they had just left off all those years before as they tip their hats to the music of George Gershwin, offering us music of the very highest standard.
This is one of a set of 5 CDs released in 2000 by Avid. The Trio comprises Ralph Sharon on piano, Lennie Bush on bass and Jack Parnell on drums, all of whom played in the Ted Heath orchestra at some time. Lennie Bush also played in Jack Parnell's ATV orchestra. The other CDs in the series feature the music of Irving Berlin, Jerome Kern, Cole Porter, and Richard Rodgers. There are 18 tracks on the CD including one medley of three tunes and a shortened version of `Rhapsody in Blue'. The tempo at which some of the tunes are played are not the ones we hear most often – which gives many of the tunes a fresh sound quite apart from Sharon's improvisations.
Ralph Sharon made his professional debut with Ted Heath in 1946, then moved on to Frank Weir's orchestra before leading his own sextet. He moved to the U.S. in 1953, where he initially worked as an accompanist to Chris Connor. In 1957, he became musical director and pianist for Tony Bennett. He acquired American citizenship in 1958. In 1965, he and Bennett split up, but they got back together in 1979 and played together in the following years. Sharon also led various groups and made many recordings as a leader. He died in March 2015 at his home in Boulder, Colorado at the age of 91.
Piano – Ralph Sharon
Bass – Lennie Bush
Drums – Jack Parnell
Tracklist:
01. Fascinating Rhythm (3:02)
02. They All Laughed (2:27)
03. Medley: Somebody Loves Me/'S Wonderful/But Not for Me/Soon (2:51)
04. I Loves You, Porgy (3:08)
05. I Got Rhythm (2:11)
06. They Can't Take That Away From Me (4:21)
07. Someone To Watch Over Me (4:05)
08. The Man I Love (3:10)
09. Our Love Is Here to Stay (2:33)
10. There's a Boat Dat's Leavin' Soon for New York (3:41)
11. Rhapsody in Blue (Theme) (3:02)
12. A Foggy Day (1:55)
13. Embraceable You (3:18)
14. Liza (2:20)
15. How Long Has This Been Going On? (3:05)
16. Swanee (4:22)
17. Love Walked In (3:20)
18. Oh, Lady Be Good (2:37)
Exact Audio Copy V1.3 from 2. September 2016
Отчёт EAC об извлечении, выполненном 24. июля 2018, 11:06
Ralph Sharon Trio / The Magic of George Gershwin
Дисковод: hp DVDRAM GT80N Adapter: 1 ID: 0
Режим чтения : Достоверность
Использование точного потока : Да
Отключение кэша аудио : Да
Использование указателей C2 : Нет
Коррекция смещения при чтении : 102
Способность читать области Lead-in и Lead-out : Нет
Заполнение пропущенных сэмплов тишиной : Да
Удаление блоков с тишиной в начале и конце : Нет
При вычислениях CRC использовались нулевые сэмплы : Да
Интерфейс : Встроенный Win32-интерфейс для Win NT/2000
Выходной формат : Пользовательский кодировщик
Выбранный битрейт : 128 kBit/s
Качество : Высокий
Добавление ID3-тега : Нет
Утилита сжатия : C:Program Files (x86)Exact Audio CopyFlacflac.exe
Дополнительные параметры : -V -8 -T "Date=%year%" -T "Genre=%genre%" %source%
TOC извлечённого CD
Трек | Старт | Длительность | Начальный сектор | Конечный сектор
––––––––––––––––––––––––––––––––––-
1 | 0:00.00 | 3:02.00 | 0 | 13649
2 | 3:02.00 | 2:26.74 | 13650 | 24673
3 | 5:28.74 | 2:51.30 | 24674 | 37528
4 | 8:20.29 | 3:08.12 | 37529 | 51640
5 | 11:28.41 | 2:10.49 | 51641 | 61439
6 | 13:39.15 | 4:21.12 | 61440 | 81026
7 | 18:00.27 | 4:04.48 | 81027 | 99374
8 | 22:05.00 | 3:09.63 | 99375 | 113612
9 | 25:14.63 | 2:33.11 | 113613 | 125098
10 | 27:47.74 | 3:41.35 | 125099 | 141708
11 | 31:29.34 | 3:02.23 | 141709 | 155381
12 | 34:31.57 | 1:55.24 | 155382 | 164030
13 | 36:27.06 | 3:17.61 | 164031 | 178866
14 | 39:44.67 | 2:19.53 | 178867 | 189344
15 | 42:04.45 | 3:04.47 | 189345 | 203191
16 | 45:09.17 | 4:22.02 | 203192 | 222843
17 | 49:31.19 | 3:19.50 | 222844 | 237818
18 | 52:50.69 | 2:36.68 | 237819 | 249586
Характеристики диапазона извлечения и сообщения об ошибках
Выбранный диапазон
Имя файла D:MusicRalph Sharon Trio – The Magic of George Gershwin.wav
Пиковый уровень 100.0 %
Скорость извлечения 2.2 X
Качество диапазона 100.0 %
CRC теста D899433A
CRC копии D899433A
Копирование… OK
Ошибок не произошло
AccurateRip: сводка
Трек 1 : извлечено точно (доверие 1) [8AE1B89F] (AR v1)
Трек 2 : извлечено точно (доверие 1) [76411C91] (AR v1)
Трек 3 : извлечено точно (доверие 1) [67EB25E8] (AR v1)
Трек 4 : извлечено точно (доверие 1) [5C2B1E6B] (AR v1)
Трек 5 : извлечено точно (доверие 1) [186CA929] (AR v1)
Трек 6 : извлечено точно (доверие 1) [1948CC65] (AR v1)
Трек 7 : извлечено точно (доверие 1) [61D8D80F] (AR v1)
Трек 8 : извлечено точно (доверие 1) [7686B778] (AR v1)
Трек 9 : извлечено точно (доверие 1) [D180C1B3] (AR v1)
Трек 10 : извлечено точно (доверие 1) [D04D8647] (AR v1)
Трек 11 : извлечено точно (доверие 1) [272053BB] (AR v1)
Трек 12 : извлечено точно (доверие 1) [8D6FF7D8] (AR v1)
Трек 13 : извлечено точно (доверие 1) [C8943419] (AR v1)
Трек 14 : извлечено точно (доверие 1) [28EB3557] (AR v1)
Трек 15 : извлечено точно (доверие 1) [69FA9FD3] (AR v1)
Трек 16 : извлечено точно (доверие 1) [3080D215] (AR v1)
Трек 17 : извлечено точно (доверие 1) [EF78C4D2] (AR v1)
Трек 18 : извлечено точно (доверие 1) [6D3C733E] (AR v1)
Все треки извлечены точно
Конец отчёта
==== Контрольная сумма отчёта D4C840EF922F0519592DD020110510A9F6424FCE0DE78B906860B88E63A25A4C ====
foobar2000 1.2 / Dynamic Range Meter 1.1.1
log date: 2018-11-17 21:47:18
––––––––––––––––––––––––––––––––––––––––
Analyzed: Ralph Sharon Trio / The Magic of George Gershwin
––––––––––––––––––––––––––––––––––––––––
DR Peak RMS Duration Track
––––––––––––––––––––––––––––––––––––––––
DR16 0.00 dB -20.31 dB 3:02 01-Fascinating Rhythm
DR15 -4.03 dB -22.30 dB 2:27 02-They All Laughed
DR15 -2.58 dB -22.14 dB 2:51 03-Medley: Somebody Loves Me/'S Wonderful/But Not for Me/Soon
DR14 -4.92 dB -23.53 dB 3:08 04-I Loves You, Porgy
DR19 -0.40 dB -23.40 dB 2:11 05-I Got Rhythm
DR16 -2.17 dB -21.88 dB 4:21 06-They Can't Take That Away From Me
DR14 -6.61 dB -25.82 dB 4:05 07-Someone To Watch Over Me
DR16 0.00 dB -21.25 dB 3:10 08-The Man I Love
DR15 -1.46 dB -19.67 dB 2:33 09-Our Love Is Here to Stay
DR15 -0.62 dB -22.77 dB 3:41 10-There's a Boat Dat's Leavin' Soon for New York
DR15 -5.73 dB -27.79 dB 3:02 11-Rhapsody in Blue (Theme)
DR13 -2.36 dB -20.63 dB 1:55 12-A Foggy Day
DR14 -8.12 dB -25.85 dB 3:18 13-Embraceable You
DR14 -3.35 dB -21.18 dB 2:20 14-Liza
DR14 -8.58 dB -26.83 dB 3:05 15-How Long Has This Been Going On?
DR15 -4.55 dB -23.94 dB 4:22 16-Swanee
DR14 -4.79 dB -24.17 dB 3:20 17-Love Walked In
DR16 -3.91 dB -23.89 dB 2:37 18-Oh, Lady Be Good
––––––––––––––––––––––––––––––––––––––––
Number of tracks: 18
Official DR value: DR15
Samplerate: 44100 Hz
Channels: 2
Bits per sample: 16
Bitrate: 572 kbps
Codec: FLAC
================================================================================
DOWNLOAD LINK