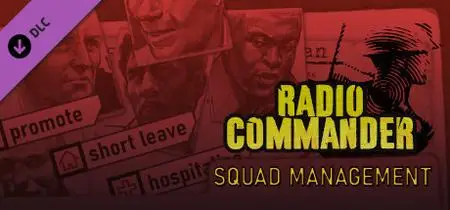 Use the radio to give commands to the soldiers on the battlefield. Keep track of the situation based on their voice reports only. Lead US platoons to clash with Vietcong in a realistic, innovative approach to the RTS genre. Make hard choices in a narrative driven experience, and face the outcome.
Key features:
– list of every unit's personnel
– exp and leveling up system for units
– over 60 unique perks soldiers can learn on a battlefield
– soldiers' portraits
– complex morale system for every soldier and whole Baker Company
– glossary with main heroes' portraits and backstories
– promotion system
– moving soldiers between units
– sending soldiers on leaves
– enlisting newbies
– discharging soldiers
– log with all dialogues, missions' outcomes, player's decisions etc.
You need the following releases for this:
Radio.Commander.Squad.Management-CODEX
Radio.Commander.Squad.Management.Update.v1.123-CODEX
MINIMUM:
OS: Windows 7 / 8 / 10
Processor: 3.2 GHz Dual Core Processor (Intel Core i3, AMD Phenom II)
Memory: 4 GB RAM
Graphics: GeForce GTX 460 / Radeon HD6870
DirectX: Version 11
Storage: 4 GB available space
Sound Card: DirectX compatible
Additional Notes: Windows 10 required to use the Voice Recognition
RECOMMENDED:
OS: Windows 8 / 10
Processor: 3.2 GHz Dual Core Processor (Intel Core i3, AMD Phenom II)
Memory: 4 GB RAM
Graphics: GeForce 1060, Radeon RX 580 or equivalent with 4GB of video RAM
DirectX: Version 11
Storage: 4 GB available space
Sound Card: DirectX compatible
Additional Notes: Windows 10 required to use the Voice Recognition
DOWNLOAD LINK