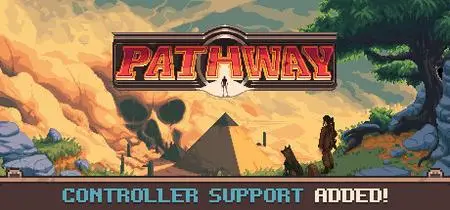 Explore the strange unknown with Pathway, a strategy adventure set in the 1930s great wilderness. Unravel long-forgotten mysteries of the occult, raid ancient tombs and outwit your foes in turn-based squad combat!
In a time of global turmoil, Nazi influence spreads inexorably across Europe and the Middle East. Rumors are abound of secret excavations, mysterious artifacts, and even the odd whisperings and tales of gruesome occult rituals…
It's up to you to assemble a team of bold adventurers to journey through the desert. Explore bunkers and temples of Northern Africa to discover their hidden treasures and secrets before they fall into the hands of Nazi forces.
Pathway is a turn-based strategy game designed to provide players with approachable, fast-paced and fun squad skirmishes in an early 20th century pulp-adventure setting. Quickly run for cover, flank enemies and utilize your team's special abilities to turn the tide of battle in your favor!
On the way to the mission objective, your team will trek through a randomized map, encountering a series of brief, 'choose-your-own-adventure' stories. The key to a successful mission will be to manage the risks that you take during these encounters, but remember that missions can be repeated at any time – with a new series of events to encounter each time you restart.
MINIMUM:
Requires a 64-bit processor and operating system
OS: Windows 7, 64-bit
Processor: 2.0 Ghz DualCore CPU
Memory: 8 GB RAM
Graphics: Intel HD4000 or better, OpenGL 3.3
Storage: 2 GB available space
RECOMMENDED:
Requires a 64-bit processor and operating system
OS: Windows 10, 64-bit
Processor: 2.0+ Ghz QuadCore CPU
Memory: 8 GB RAM
Graphics: NVIDIA Geforce 660 or AMD Radeon HD 7000 Series, OpenGL 3.3
Storage: 2 GB available space
DOWNLOAD LINK