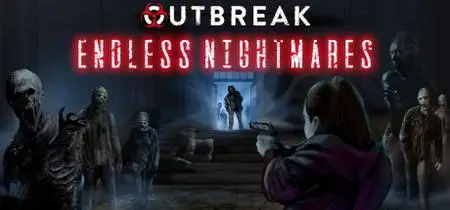 Outbreak: Endless Nightmares twists the series' survival horror gameplay by adding elements of roguelike gameplay. You'll need to explore, hunt for supplies, uncover clues, and fight your way through each anomaly – each consisting of semi-procedurally generated instances where both the environment, and the undead, are out to kill you!
They're experiencing hallucinations and find themselves trapped in an endless loop of horror! They'll need to work together to understand the nature of this anomaly and ultimately find a way to free themselves – or be trapped forever.
Something Old, Something New: Outbreak's signature classic survival gameplay mixed with roguelike elements.
An Expanding World: Explore a massive, semi-procedurally generated world that expands as the game progresses! Talk to NPCs, visit shops, etc.
Three Camera Angles: Choose a view that works for you – Fixed camera, over the shoulder, or first person.
Photo Mode: Take beautiful pictures with the camera or use the photo mode to scan or anything dangerous nearby!
Death Isn't the End: Death returns you to the hub with most of your inventory intact, experience, and money.
Semi-Procedurally Generated Dungeons: Revisit anomaly dungeons multiple times to find different traps, enemies, puzzles, challenges – and loot!
Co-Op: Fight the nightmare with a friend in 2-player Split-Screen Co-Op.
Character Options: Choose from 6 unique characters, each with their own backstory, stats, and ability loadouts.
Crafting: Dismantle, repair, and upgrade weapons; build ammo through gunpowder; and combine healing items to create new formulas and more!
Game Modes: Choose from 5 gameplay modes – Standard, Ironman, Randomizer, Lost Hope, and Easy Mode.
Uncover the Story: Search through notes and logs to read more from Lydia's journal and piece together the past and future of the outbreak.
Late Game Content / New Game+: Face a randomly generated dungeon of extreme danger near the end of the game AND try multiple new game + modes after completing the story.
MINIMUM:
Requires a 64-bit processor and operating system
OS: Windows (7/8/10) 64-bit
Processor: Core i5
Memory: 4 GB RAM
Graphics: Geforce GTX 750 TI / AMD Radeon R9 270X
DirectX: Version 11
Storage: 12 GB available space
Sound Card: Integrated
Additional Notes: Plays best with an Xbox One gamepad
RECOMMENDED:
Requires a 64-bit processor and operating system
OS: Windows (7/8/10) 64-bit
Processor: Core i7
Memory: 8 GB RAM
Graphics: NVIDIA Geforce GTX 970 / AMD Radeon R9 290X
DirectX: Version 11
Storage: 12 GB available space
Sound Card: Hardware
Additional Notes: Plays best with an Xbox One gamepad
DOWNLOAD LINK