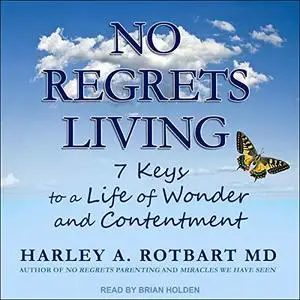 No Regrets Living is a proactive seven-step plan to help us better appreciate what we have in our lives, and take greater pride in what we've done with our lives – without spending precious time and energy wishing things had turned out differently. Of course all of us have had disappointments, lamentable moments. For some, those times have led to lasting unhappiness and a life that feels unfulfilled, even meaningless. Others have found ways to move past the downturns and find better ahead. No Regrets Living leads us to see the world through a lens of appreciation for the magnificence around us, which in turn helps us accommodate those not-so-magnificent moments in our lives.
Dr. Rotbart brings his unique perspective as physician, scientist, child of a Holocaust survivor, and heart patient to No Regrets Living. Part self-help manual, part inspirational road map, part moving memoir, No Regrets Living is a blueprint for reaching greater satisfaction and fulfillment in life.
Woven into the timeless message of the book are especially timely observations on the COVID-19 pandemic from Dr. Rotbart's expert perspective as an infectious diseases physician, including coping mechanisms and paths for going forward as individuals and as a society.
DOWNLOAD LINK