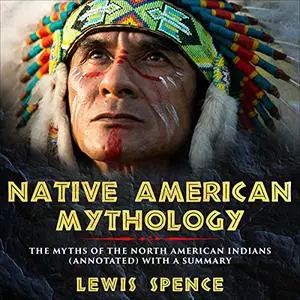 Great Collection of the Timeless Myths of the Native Americans
Be ready to immerse yourself into the myths and long forgotten stories of the Native Americans. Discover how those myths took life through many stories, and what they were at their core.
Native Americans were one with nature, and that's why their myths are so fascinating as well.
This book by author Lewis Spence serves as an insight into how the First Nations saw the world and how they forged history as we know it through their beliefs and traditions, before the impact of other cultures.
In this book, you will find a collection of the first Native American tales and legends dating around the end of the 19th century. Now more than ever, it is time for us to reconnect with nature and seek the unique wisdom of the old days.
Drawn from the myths and legends of the Algonquins, Iroquois, Sioux, Pawnee, and Northern and Northwestern Indians, these enchanting tales offer insights into tribal character and beliefs.
Selected by the distinguished British anthropologist and folklorist Lewis Spence, they range in theme from romantic love to rivalry between warriors to victory over powerful forces. The details of their recounting evoke images of Native Americans' innermost aspirations and fears, as well as their larger worldview.
A major forerunner of modern studies of myth, this compelling book blends the legends with factual material, giving each myth a meaningful perspective. Students of anthropology and ethnology will prize the especially rich variety of mythical imagery in this collection, which features a simple, direct manner of storytelling that will appeal to children as well as to adults. All listeners will find in this audio a treasury of suspenseful tales that reveal much of the spirit of North America's original cultures.
Some of the popular myths included in this book are:
The Story of Blue Jay and Ioi
The Marriage of Ioi
A Fishing Expedition in Shadow-land
Blue Jay and Ioi Go Visiting
The Heaven-Sought Bride
The Chinooks Visit the Supernaturals
The Four Tests
The Thunderer's Son-in-Law
The Myth of Stikua
The Birth of Sîñ
Master-Carpenter and Southeast
The Beaver and the Porcupine
The Devil-Fish's Daughter
Ictinike and the Buzzard
Ictinike and the Creators
The Story of Wabaskaha
The Men-Serpents
The Boy Magician
The Friendly Skeleton
Bear Magic
The Young Dog Dance
The Medicine Wolf
The Story of Scar-face
The Great Turnip
The Magical Serpent
And many more inside!
The audiobook narration of Jim Johnston complements the old storytelling very well. You will find yourself thinking you are listening to these stories by a great Chief himself around a warm fire smoking a calumet or peace pipe.
No time to waste. Download it now, and immerse yourself into the great myths of the Native Americans!
DOWNLOAD LINK