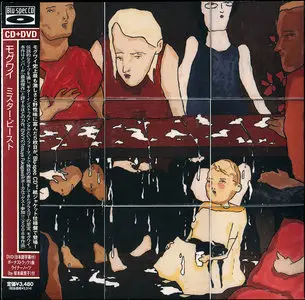 With tune titles like "Glasgow Mega-Snake," "Acid Food," and "I Chose Horses," it should be clear Mogwai hasn't taken any easy, mellowing departures on Mr. Beast. Sure, the album opens with the calming guitar atmospherics of "Auto Rock," but then "Glasgow Mega-Snake" comes bounding out with a crushing jog of a beat and a trademark granite slab of guitars. The Scots also indulge incrementally more beautiful and terrifying dreamscapes, especially the down-turned piano topping that hovers above a guitar storm on "Emergency Trap" and the layers of clear-toned melody that chime over a swirl of choked, feedback-drenched power on "Folk Death 95." There has long been talk of Scottish miserablism, and this colors and grinds the idea blissfully.

Review by Andrew Bartlett
Possibly the most accessible yet sophisticated album Mogwai has released, Mr. Beast strips away most of the electronic embellishment of their recent work in favor of a back-to-basics sound that returns to and expands on the approach they pioneered on Young Team. Mr. Beast is also a surprisingly spontaneous-sounding album – in the best possible sense, its freshness makes it feel like a recorded practice session and also helps give relatively delicate pieces like "Team Handed" the same amount of impact that heavy, searing tracks like the closer, "We're No Here," have. Interestingly, more of Mr. Beast tends toward the former kind of song than the latter; "Friend of the Night," "Emergency Trap," and the glorious, slow-burning album opener, "Auto-Rock," give the album an unusually refined, even elegant feel that is underscored by the prominent use of piano and lap steel in the arrangements. On songs like "Acid Food" and the magnificent "I Chose Horses" – which features cavernously deep bass and spoken word vocals by Tetsuya Fukagawa from the Japanese hardcore band Envy – Mr. Beast feels downright pastoral. However, Mogwai doesn't give up their heavy side entirely, as the aforementioned "We're No Here" and "Glasgow Mega-Snake" show; any song that has either "mega" or "snake" in the title should rock, and this one does, kicking off with a claustrophobic snarl of guitars that makes this one of the most intense pieces Mogwai has ever recorded. Mr. Beast manages to be immediate without sounding dumbed-down..
Tracklist:
01. Auto Rock (4:19)
02. Glasgow Mega-Snake (3:35)
03. Acid Food (3:41)
04. Travel is Dangerous (4:01)
05. Team Handed (3:58)
06. Friend of the Night (5:31)
07. Emergency Trap (3:31)
08. Folk Death 95 (3:34)
09. I Chose Horses (5:13)
10. We're No Here (5:38)
11. 1% of Monster (bonus track) (3:49)
Exact Audio Copy V1.0 beta 3 from 29. August 2011
Отчёт EAC об извлечении, выполненном 20. октября 2011, 21:27
Mogwai / Mr. Beast (PIASX062CDJX)
Дисковод: ASUS DRW-24B1ST Adapter: 3 ID: 0
Режим чтения : Достоверность
Использование точного потока : Да
Отключение кэша аудио : Да
Использование указателей C2 : Нет
Коррекция смещения при чтении : 6
Способность читать области Lead-in и Lead-out : Нет
Заполнение пропущенных сэмплов тишиной : Да
Удаление блоков с тишиной в начале и конце : Нет
При вычислениях CRC использовались нулевые сэмплы : Да
Интерфейс : Встроенный Win32-интерфейс для Win NT/2000
Выходной формат : Внутренние WAV-операции
Формат сэмплов : 44.100 Гц; 16 бит; стерео
TOC извлечённого CD
Трек | Старт | Длительность | Начальный сектор | Конечный сектор
––––––––––––––––––––––––––––––––––-
1 | 0:00.00 | 4:18.42 | 0 | 19391
2 | 4:18.42 | 3:35.29 | 19392 | 35545
3 | 7:53.71 | 3:40.58 | 35546 | 52103
4 | 11:34.54 | 4:01.05 | 52104 | 70183
5 | 15:35.59 | 3:58.09 | 70184 | 88042
6 | 19:33.68 | 5:30.52 | 88043 | 112844
7 | 25:04.45 | 3:31.19 | 112845 | 128688
8 | 28:35.64 | 3:34.08 | 128689 | 144746
9 | 32:09.72 | 5:13.05 | 144747 | 168226
10 | 37:23.02 | 5:38.02 | 168227 | 193578
11 | 43:01.04 | 3:48.40 | 193579 | 210718
Характеристики диапазона извлечения и сообщения об ошибках
Выбранный диапазон
Имя файла Z:Mogwai2006 – Mr. Beast (PIASX062CDJX)Mogwai – Mr. Beast (PIASX062CDJX).wav
Пиковый уровень 99.8 %
Скорость извлечения 2.9 X
Качество диапазона 100.0 %
CRC теста F6765E6B
CRC копии F6765E6B
Копирование… OK
Ошибок не произошло
AccurateRip: сводка
Трек 1 точность не определена (достоверность 13) [C199D600], AccurateRip вернул [BDD9C70A] (AR v2)
Трек 2 точность не определена (достоверность 13) [60C57DD3], AccurateRip вернул [2E6DB76F] (AR v2)
Трек 3 точность не определена (достоверность 13) [9A50F846], AccurateRip вернул [6F9607F0] (AR v2)
Трек 4 точность не определена (достоверность 13) [4D6E10BB], AccurateRip вернул [26AADA1A] (AR v2)
Трек 5 точность не определена (достоверность 13) [A804650B], AccurateRip вернул [57E8B348] (AR v2)
Трек 6 точность не определена (достоверность 13) [E0B2A991], AccurateRip вернул [456266E7] (AR v2)
Трек 7 точность не определена (достоверность 13) [D713C87A], AccurateRip вернул [B4908B7B] (AR v2)
Трек 8 точность не определена (достоверность 13) [38092856], AccurateRip вернул [E9440112] (AR v2)
Трек 9 точность не определена (достоверность 13) [B8666F91], AccurateRip вернул [A4276258] (AR v2)
Трек 10 точность не определена (достоверность 13) [46053990], AccurateRip вернул [4A230CF4] (AR v2)
Трек 11 точность не определена (достоверность 13) [CF12BA38], AccurateRip вернул [54860603] (AR v2)
Ни один трек не прошёл проверки на точность
В вашей базе может быть иной вариант штамповки диска
Конец отчёта
–– CUETools DB Plugin V2.1.3
[CTDB TOCID: bkbdphBmrYOp8e4DSUQIWLFuuJs-] found, Submit result: bkbdphBmrYOp8e4DSUQIWLFuuJs- has been confirmed
[97f12213] (11/11) Accurately ripped
==== Контрольная сумма отчёта 162DC466BBD088BA8F031E8072C6A6FB5309EF7DE0E69C3C4A24CAEC7D0DFB3C ====
foobar2000 1.2 / Dynamic Range Meter 1.1.1
log date: 2014-06-23 15:33:52
––––––––––––––––––––––––––––––––––––––––
Analyzed: Mogwai / Mr. Beast (PIASX062CDJX)
––––––––––––––––––––––––––––––––––––––––
DR Peak RMS Duration Track
––––––––––––––––––––––––––––––––––––––––
DR6 -0.12 dB -8.99 dB 4:19 01-Auto Rock
DR5 -0.01 dB -6.65 dB 3:35 02-Glasgow Mega-Snake
DR9 -0.18 dB -10.60 dB 3:41 03-Acid Food
DR5 -0.01 dB -7.25 dB 4:01 04-Travel is Dangerous
DR6 -0.01 dB -8.84 dB 3:58 05-Team Handed
DR7 -0.17 dB -9.94 dB 5:31 06-Friend of the Night
DR6 -0.09 dB -9.64 dB 3:31 07-Emergency Trap
DR6 -0.11 dB -8.20 dB 3:34 08-Folk Death 95
DR7 -0.20 dB -10.34 dB 5:13 09-I Chose Horses
DR5 -0.01 dB -7.19 dB 5:38 10-We're No Here
DR8 -0.20 dB -10.40 dB 3:49 11-1% of Monster
––––––––––––––––––––––––––––––––––––––––
Number of tracks: 11
Official DR value: DR6
Samplerate: 44100 Hz
Channels: 2
Bits per sample: 16
Bitrate: 821 kbps
Codec: FLAC
================================================================================
DVD Content:
Documentary – 'The Recording of Mr. Beast'
DOWNLOAD LINK