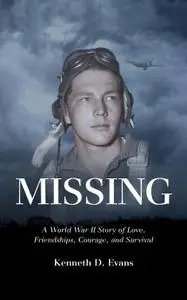 Don was an all-American boy who went to war for his country…
…but he never expected to end up in a Nazi POW camp.
Student-body president with all-state sports honors, Don was destined for a bright future. His plans included college and marrying the love of his life, Laura Jeanne. Then fate stepped in. Japan bombed Pearl Harbor and America entered World War II.
At age 19, Don joined the United States Army Air Force and flew in the 368th Fighter Group of the Ninth Air Force. That is, until he was shot down behind enemy lines in the Battle of the Bulge. Lost, cold, and hungry, Don spent Christmas Eve wondering if he'd ever see his family again.
Don's story gives an extraordinary account of WWII, detailing capture by Nazi SS Troops, a 200-mile forced march, near starvation, and internment in a German POW camp.
Using excerpts from his parent's personal letters, journals, and actual images from their experiences, Kenneth D. Evan creates a heartfelt narrative founded on historical accuracy.
You'll love MISSING for the story of survival, true love, and an American hero overcoming insurmountable odds.
DOWNLOAD LINK