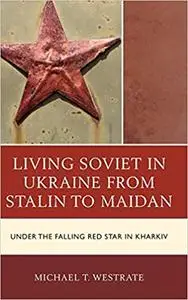 What the world is now witnessing in Ukraine is the cumulative effect of history and memory in the lives of the people of the region—and this book directly addresses those subjects. Although the majority of scholarship on the Soviet Union focuses on top-level political and intellectual elites, these groups were only tiny minorities. What was life like for the rest of society? What was it like for the vast population that usually supported the regime, mostly accepted the rules, essentially internalized the ideology, and generally made the same choices as their neighbors and friends? What was it like to live Soviet as the USSR hit its peak as a superpower and then fell apart? What was it like to live Soviet in Ukraine in the decade after independence?
This book answers those questions. It is an oral history of a group of military colonels and their wives, children, and contemporaries, covering their lives from childhood to the present. During this period, these military families went from comfortable economic circumstances, professional prestige, and political influence as part of the Soviet upper stratum, to destitution and disgrace in the 1990s. Today, many of them are part of Europe's largest ethnic minority—Russians in Ukraine.
The geographic focus is Kharkiv, the second-largest city in Europe's second-largest country, a Russian-speaking city in eastern Ukraine. Based on 3,000+ pages of interview transcripts and supplemented with materials gleaned from unprecedented access to personal, family, and institutional archives, the book investigates how families endured shifting social, cultural, and political realities.
By analyzing the lives of individuals in context, Westrate provides insights at the grassroots level. He reveals how ideological, professional, gender, ethnic, and national imperatives—as developed and transmitted by elites—were internalized, transformed, or rejected by the rank and file. He reveals how the subjective identities of individuals and small groups developed and changed over time, and how that process relates to the parallel projects pursued by the leaders of their countries. In the process, he shows what those experiences have to offer the study of Soviet, post-Soviet, and transnational history, bridging the boundaries created by the collapse of the USSR and exploring the foundations of both twenty-first-century Ukraine and today's conflicts.
DOWNLOAD LINK