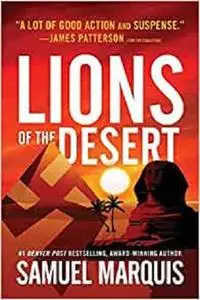 Winner Readers' Favorite Book Awards
Winner Beverly Hills Book Awards
Winner National Indie Excellence Book Awards
Award-Winning Finalist Foreword Reviews' Book of the Year
Award-Winning Finalist American Fiction Best Book Awards
LIONS OF THE DESERT is the true story of the WWII 1941-1942 Desert War in North Africa and Operation Condor, a story that has captivated the minds of authors, historians, and filmmakers for three-quarters of a century.
The story is told through the eyes of six legendary historical figures that lived through the epic events: Scottish Colonel David Stirling, leader of the Special Air Service, a brigade of eccentric desert commandos that raided Axis airfields and supply lines; German Field Marshal Erwin Rommel, commander of the vaunted Africa Corps, who very nearly succeeded in driving the British out of Egypt; Egyptian Hekmat Fahmy, the famous belly dancer, regarded as a Mata-Hari-like German agent in previous accounts but in fact a far more intriguing and ambiguous character in real life; Major A.W. Sansom, head of the British Field Security unit that hunted down Axis spies and pro-German Egyptian nationalists operating in Cairo; Johannes Eppler, the notorious German spy of Operation Condor whose real story is finally told; and Colonel Bonner Fellers, the U.S. military attaché in Cairo, who was privy to Allied secrets in the North African theater and inadvertently played an important role in intelligence-gathering activities for both sides in the campaign.
DOWNLOAD LINK