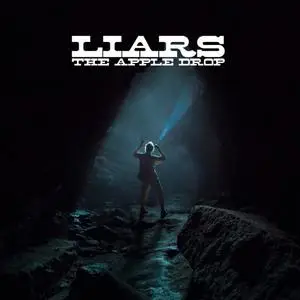 The Apple Drop is the 10th studio album from Liars. Recorded in Australia with avant-garde jazz drummer Laurence Pike and multi-instrumentalist Cameron Deyell, mixing their raw, organic live instrumentation with Angus's solo tinkering at the computer, resulting in an album that blurs boundaries between the archetypal band structure and experimental electronics. The album feels distinctly and recognisably Liars, yet also fresh and singular. Rich textures overlap with engulfing ambience, before giving way to eruptive blasts of noise, crackling electronics and thrashing drums. Includes the single 'Sekwar'.
TRACKLIST
1. Liars – The Start
2. Liars – Slow and Turn Inward
3. Liars – Sekwar
4. Liars – Big Appetite
5. Liars – From What the Never Was
6. Liars – Star Search
7. Liars – My Pulse to Ponder
8. Liars – Leisure War
9. Liars – King of the Crooks
10. Liars – Acid Crop
11. Liars – New Planets New Undoings
–––––––––––-
DON'T MODIFY THIS FILE
–––––––––––-
PERFORMER: auCDtect Task Manager, ver. 1.6.0 RC1 build 1.6.0.1
Copyright © 2008-2010 y-soft. All rights reserved
http://y-soft.org
ANALYZER: auCDtect: CD records authenticity detector, version 0.8.2
Copyright © 2004 Oleg Berngardt. All rights reserved.
Copyright © 2004 Alexander Djourik. All rights reserved.
FILE: 11 – New Planets New Undoings.flac
Size: 11511196 Hash: CE91EFB1A96FE133EE378D2D2ED2319E Accuracy: -m0
Conclusion: CDDA 100%
Signature: 55742FAA938B65954F9C9EB7BE9984429E99767E
FILE: 10 – Acid Crop.flac
Size: 25456548 Hash: 4670E689CF933AF51725C3D097C52FCB Accuracy: -m0
Conclusion: CDDA 99%
Signature: A261AFAE28C5A3CC2D380904F283E9124013C2DF
FILE: 09 – King of the Crooks.flac
Size: 22430113 Hash: 6FA9629F88FE8868FF23C22B69B21AE0 Accuracy: -m0
Conclusion: CDDA 99%
Signature: C704E9E1F7D44E8A47CAD13F280F4E509E405601
FILE: 08 – Leisure War.flac
Size: 22961446 Hash: A9A7C34BFC4EEE91881828D358B947C9 Accuracy: -m0
Conclusion: CDDA 100%
Signature: D13A26456E5F3EE4DBE5751AC2F430BA0C21F0F9
FILE: 07 – My Pulse to Ponder.flac
Size: 19268966 Hash: E869134328FD72B4335F0D5103611DFE Accuracy: -m0
Conclusion: CDDA 99%
Signature: CD0C28B4083DA78B9DCDBC98CE1B1A70716C5FAB
FILE: 06 – Star Search.flac
Size: 22609579 Hash: 78337E483D1E1A879A94641B435BC365 Accuracy: -m0
Conclusion: CDDA 100%
Signature: F1CDC5D0101DA2821F689C9BD6C3163323688D52
FILE: 05 – From What the Never Was.flac
Size: 24726663 Hash: 5AFB36E8C8A9C299EF3AA4F0F97FF0D9 Accuracy: -m0
Conclusion: CDDA 99%
Signature: 3945C523F94A0E1091F23F95C4DB7FDD4E540E52
FILE: 04 – Big Appetite.flac
Size: 34215507 Hash: 92EB0266B105BB0E770E0A750E56302B Accuracy: -m0
Conclusion: CDDA 100%
Signature: 0B614A6CB04428B8AF50040991B31095B1D22548
FILE: 03 – Sekwar.flac
Size: 27756787 Hash: 137A64AC3FC7B1C9F16AF3F5CDAED166 Accuracy: -m0
Conclusion: CDDA 100%
Signature: 2F9D1907D035FA1776B64D4E5E8F4AC4CEA8BDDE
FILE: 02 – Slow and Turn Inward.flac
Size: 20580186 Hash: 4127FEEF140F5CC829745B7637F0747C Accuracy: -m0
Conclusion: CDDA 99%
Signature: 70CF7C8D19F3876B6BD465326672ED5B78255E32
FILE: 01 – The Start.flac
Size: 24450505 Hash: BB59ED65E5DA95209338C2727D611C67 Accuracy: -m0
Conclusion: CDDA 100%
Signature: 9F7BC1D3E843E2B4CD3353DD12BC2930A278B8DC
DOWNLOAD LINK