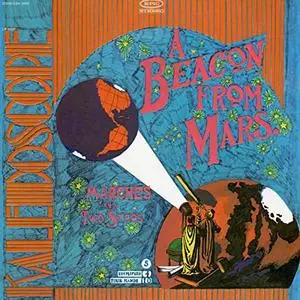 Kaleidoscope's second album is the best non-compilation showcase of their legendary eclecticism and versatility. It takes in a blues-rocking cover of Willie Cobbs' "You Don't Love Me"; Doug Kershaw's Cajun "Louisiana Man"; a scary old folk song ("Greenwood Sidee," about a woman who kills her two babies); a hilarious country-ish indictment of marriage ("Baldheaded End of a Broom"); two good acid-folk originals ("Life Will Pass You By" and "I Found Out"); and two completely dissimilar ten-minute-plus originals: the Middle Eastern "Taxim," and the psychedelic workout "Beacon from Mars." Every one of these disparate styles is performed with authority and commitment, and the result still has the power to amaze.
TRACKLIST
01. Kaleidoscope – I Found Out
02. Kaleidoscope – Greenwood Sidee
03. Kaleidoscope – Life Will Pass You By
04. Kaleidoscope – Taxim
05. Kaleidoscope – Baldheaded End of a Broom
06. Kaleidoscope – Louisiana Man
07. Kaleidoscope – You Don't Love Me
08. Kaleidoscope – Beacon from Mars
09. Kaleidoscope – Rampe Rampe
10. Larry Williams – Nobody
11. Kaleidoscope – Love Games (Single Version)
12. Kaleidoscope – Egyptian Candy (Single Version)
13. Kaleidoscope – Hello Trouble (Single Version)
14. Kaleidoscope – Just a Taste (Single Version)
–––––––––––-
DON'T MODIFY THIS FILE
–––––––––––-
PERFORMER: auCDtect Task Manager, ver. 1.6.0 RC1 build 1.6.0.1
Copyright © 2008-2010 y-soft. All rights reserved
http://y-soft.org
ANALYZER: auCDtect: CD records authenticity detector, version 0.8.2
Copyright © 2004 Oleg Berngardt. All rights reserved.
Copyright © 2004 Alexander Djourik. All rights reserved.
FILE: 14 – Kaleidoscope – Just a Taste (Single Version).flac
Size: 13920929 Hash: 948F9E0F122CD91E83627325D5740BF8 Accuracy: -m0
Conclusion: CDDA 100%
Signature: D0B44881C7F7FB50A3FD65BA59250B21C2BC15FD
FILE: 13 – Kaleidoscope – Hello Trouble (Single Version).flac
Size: 14017142 Hash: 8052CC4D1741CE3E52B26B2FE29657CC Accuracy: -m0
Conclusion: CDDA 100%
Signature: 91425B201EA5904B0E061B1125687B1636952F6D
FILE: 12 – Kaleidoscope – Egyptian Candy (Single Version).flac
Size: 18097704 Hash: 4B6A88EC6A5B810C3E4277D0F0D17B1A Accuracy: -m0
Conclusion: CDDA 100%
Signature: 5AAC95D88CC99749555B16650A78CD3DE9B53454
FILE: 11 – Kaleidoscope – Love Games (Single Version).flac
Size: 16011456 Hash: 94833562564605AC5AE6C5FF3CCA720D Accuracy: -m0
Conclusion: CDDA 99%
Signature: CE812D217F7CF10426A4977268FF91B081F27259
FILE: 10 – Johnny Watson – Nobody (with Kaleidoscope).flac
Size: 17229249 Hash: CC8667F30E5680219C7728F54365EE39 Accuracy: -m0
Conclusion: CDDA 100%
Signature: FE29429BC94CE33B016861270660E3BC72369D77
FILE: 09 – Kaleidoscope – Rampe Rampe.flac
Size: 22003393 Hash: AFA851717FADC3AE5969513D2F2A3028 Accuracy: -m0
Conclusion: CDDA 99%
Signature: 9D1ABC6D1F9F40D7088306E7E6FE1F0499522694
FILE: 08 – Kaleidoscope – Beacon from Mars.flac
Size: 74510781 Hash: B50EBE7CCA320967C858AE4F0AAA9FB6 Accuracy: -m0
Conclusion: CDDA 100%
Signature: 9A81F15A6E0886992317B7B7B44BDCA4383E6899
FILE: 07 – Kaleidoscope – You Don't Love Me.flac
Size: 27485608 Hash: 8CBA9C05B61FF8087F1B860263F4C10E Accuracy: -m0
Conclusion: CDDA 100%
Signature: 359C3668FE0C8D374BCB518BB9D7438B93593667
FILE: 06 – Kaleidoscope – Louisiana Man.flac
Size: 16684380 Hash: 56C46DDACF096B50B5E32CA123841EBD Accuracy: -m0
Conclusion: CDDA 99%
Signature: 6F2461F4D91099E7138DFC86C4E6D6C9A3F9A45B
FILE: 05 – Kaleidoscope – Baldheaded End of a Broom.flac
Size: 22116152 Hash: 92740675D032E38D9019D090FD98D52B Accuracy: -m0
Conclusion: CDDA 100%
Signature: CFF2FAB62525120DA5DC879175E49863D3317A14
FILE: 04 – Kaleidoscope – Taxim.flac
Size: 71479921 Hash: 1BAD3C46064710E60EF507CB2307661E Accuracy: -m0
Conclusion: CDDA 100%
Signature: F535663F9346132EE03833FDB0A3C60ADB174695
FILE: 03 – Kaleidoscope – Life Will Pass You By.flac
Size: 23404187 Hash: D1C1D6B1E481A804E2DFA04D719236DA Accuracy: -m0
Conclusion: CDDA 100%
Signature: 0B1E1D733AEEA36F79ECF416880B4282DA2ED8F1
FILE: 02 – Kaleidoscope – Greenwood Sidee.flac
Size: 25355215 Hash: D22D0BC5F3D17324B0162B4D9DAB8B21 Accuracy: -m0
Conclusion: CDDA 100%
Signature: C3D9DF084B13E5174D6728CEB01FFD8B89B3CD60
FILE: 01 – Kaleidoscope – I Found Out.flac
Size: 14414407 Hash: 3938A49C8E7732E38CE3D1DBE35C33B8 Accuracy: -m0
Conclusion: CDDA 99%
Signature: A1FE7952F7E3DC7A0F1B4BB531B88ADE1A95D945
All thanks go to the original releaser
DOWNLOAD LINK