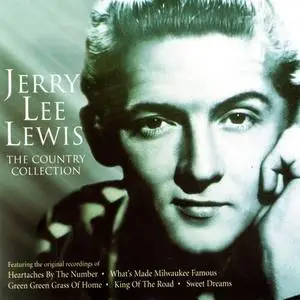 The Country Collection is a 1998 compilation by Jerry Lee Lewis, focusing on his country sides. This was released by Spectrum Music via Polygram.
01. Heartaches By The Number
02. Green Green Grass Of Home
03. Help Me Make It Through The Night
04. Detroit City
05. King Of The Road
06. I'm So Lomesome I Could Cry
07. Break My Mind
08. Sweet Dreams
09. Reuben James
10. Another Place Another Time
11. Before The Next Teardrop Falls
12. Pick Me Up On Your Way Home
13. What's Made Milwaukee Famous (Has Made A Loser Out Of Me)
14. Louisiana Man
15. Middle Age Crazy
16. I'm A Lonesome Fugitive
17. She Even Woke Me Up To Say Goodbye
18. Today I Started Loving You Again
19. I Forgot More Than You'll Ever Know
20. There Stands The Glass
Thank you to the original uploader.
DOWNLOAD LINK