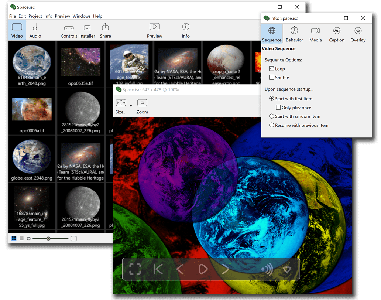 iScreensaver makes screensavers for both Macintosh and Windows using Image, Movie, Video (MP4/H.264), Live Photo, and 3D Model (GLB) files. iScreensaver Designer is truly cross-platform : edit on Windows. Create once! Distribute across Windows 7 to 10. iScreensaver is the world's only cross-platform screensaver builder.
What's New in iScreensaver Designer 6:
Modern Compatibility:
Screensavers build for Windows 7, 8, 8.1 to 10.
Simple Installers:
Creates full-featured installers/uninstallers for Macintosh and Windows. Screensavers can be previewed from the installer without installing, and can be used immediately after installation without restarting.
iPhone Live Photos: [New for 6]
Supports modern short-form movies created with iPhone Live Photos.
High Resolution Retina Displays: [Improved for 6]
Supports all 4k / UHD monitors, with images sizes up to 4096×4096 pixels.
Panorama Images: [New for 6]
Supports megapixel 360 degree (spherical) and 240 degree (cylindrical) panorama image formats.
Multiple Screen Support: [New for 6]
Screensavers can play back on all monitors. Users can use the screen saver settings window to select which screens will be active.
Movies as Screensavers: [Improved for 6]
Play movies as a screensaver – full support for HTML5-compliant MP4 / MPEG4 H.264 / AVC formats.
3D Model Support: [New for 6]
Import and animate 3D models using GLTF 2.0 (GLB) format. Import beautiful, high quality, fast motion animations from open-source 3d applications like Blender.
Multimedia / Mixed-media Screensavers:
Sequence together any number of images, videos, movies, animations.
Text Captions: [Improved for 6]
Add translucent styled text overlays, animated with XYZ motion effects. Text is retina-resolution (on supported systems).
Image Overlays: [Improved for 6]
Add floating images with transparency, with full XYZ motion effects and colorization.
Gatekeeper and AuthentiCode Support:
With additional third-party software and your own code-signing certificate, authors can digitally sign their screensaver installers. Details.
64-bit Support: [Improved for 6]
Edit screensavers and deploy on 64-bit versions of macOS and and 32 and 64-bit versions of Windows.
Multiple Audio Tracks:
Include a background audio soundtrack sequence that runs independently from the foreground video sequence.
Optional On-Screen Controls: [Improved for 6]
"Heads Up Display" (HUD), on-screen playback controls for both authors and end users. An optional "scrub to exit" to wiggle your mouse or trackpad and exit the screensaver even with the HUD enabled.
Bumpers:
Choose a sequence item to be played once every time the screensaver starts.
HUD Navigator:
Thumbnail icons let you jump to any item within the screensaver.
Password Protection:
Works with all standard lock-screen security features of macOS and Windows.
Screen Resolution:
Multiple design modes to develop screensavers for various aspect ratios. Preview high resolution screens in smaller sizes during development.
Live Preview During Installation:
Preview the screensaver content without installation.
Easy Uninstall:
You can deactivate and remove the software from within the screensaver itself, and in Windows the screensaver shows up in the 'Add/Remove Programs' control panel.
Audio Controls:
Set Volume and Mute from either the Control Panel or the on-screen HUD controls.
Screensaver Wake-up Options:
Wake your screensaver based on keyboard, mouse click, or adjustable level of mouse movement sensitivity.
iScreensaver for Windows – System Requirements:
For Screensaver Operation:
– Windows 10 or 11 (32 or 64 bit) fully updated (through version 20H2): supported.
– Windows 7, 8, or 8.1: support depends on the hardware and software of the individual machine as well as the author's choice of assets (audio-visual content) and can not be guaranteed, but most content will work as expected.
– CPU: Core 2 Duo or later (core i3 1.5GHz or greater recommended).
– RAM: 2GB RAM or more.
– Disk: 100MB free disk space.
– Software Update: fully updated Internet Explorer 11 engine with JavaScript enabled. IE must be at patch level 11.0.110 or higher.
– GPU: Dedicated or Integraded with 128MB VRAM, with vendor-specific Video drivers.
For Authoring Screensavers with iScreensaver Designer:
– Windows 10 or 11 (64 bit) version 1809 or later (21H1 or later recommended).
– CPU: Core i3 or later (2GHz or greater recommended).
– 4GB RAM (8GB or more recommended).
– 500MB free disk space.
– Software Update: fully updated Internet Explorer 11 engine with JavaScript enabled. IE must be at patch level 11.0.110 or higher.
– GPU: Dedicated or Integraded with 128MB VRAM, with vendor-specific Video drivers.
Home Page – https://iscreensaver.com/
DOWNLOAD LINK