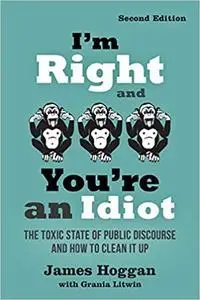 Become a more effective and powerful communicator in today's highly polarized and polluted public square
The most pressing problem we face today is not climate change. It is pollution in the public square, where a toxic smog of adversarial rhetoric, propaganda, and polarization stifles discussion and debate, creating resistance to change and thwarting our ability to solve our collective problems.
In this second edition of I'm Right and You're an Idiot, James Hoggan grapples with this critical issue, through interviews with outstanding thinkers and drawing on wisdom from highly regarded public figures. Featuring a new, radically revised prologue, afterword, and a new chapter addressing the changes in the public discourse since the 2016 United States election, his comprehensive analysis explores:
How political will is manipulated
How tribalism shuts down open-minded thinking, undermines trust, and helps misinformation thrive
Why facts alone fail and how language is manipulated and dissent silenced
The importance of dialogue, empathy, and pluralistic narrative reframing arguments to create compelling narratives and spur action.
Our species' greatest survival strategy has always been foresight and the ability to leverage intelligence to overcome adversity. For too long now this capacity has been threatened by the sorry state of public discourse. Focusing on proven techniques to foster more powerful and effective communication, I'm Right and You're an Idiot will appeal to readers looking for deep insights and practical advice in these troubling times.
DOWNLOAD LINK