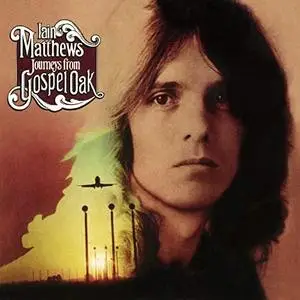 In 1972, several years after leaving both Fairport Convention and his own group, Matthews Southern Comfort, Iain Matthews was once again struck with a case of musical wanderlust and decided to pack in his solo career and form a new group, Plainsong. At the time, Matthews still owed an album to Vertigo Records, and rather than give them Plainsong's debut, he booked a studio for five days and cut a solo album dominated by covers of songs from American tunesmiths, with only two original songs appearing on the set. By all rights, the album that resulted should have been a tossed-off trifle (especially since Vertigo opted not to release it after all, eventually selling it to the independent Mooncrest label), but Journeys from Gospel Oak turned out to be one of Matthews' most satisfying solo efforts, a lovely fusion of airy country rock and pastoral British folk that captured some of Matthews' most beautiful and heartfelt vocal work. Matthews' two new songs, "Knowing the Game" and "Franklin Avenue," are fine tunes inspired by his experiences in the music business, but the covers he chose for the set are inspired; he manages to bring something fresh and affecting to well-worn numbers like "Do Right Woman" and "Sing Me Back Home," and lesser known compositions like "Bride 1945" and "Things You Gave Me" prove his interpretive instincts were to be reckoned with. The compact band Matthews put together for the sessions is superb: Jerry Donahue's lead guitar is subtle but gently reinforces the country accents of the melodies, and bassist Pat Donaldson and drummer Timi Donald (who played on many of Richard Thompson's early solo sessions) give the tracks a rock-solid foundation. Journeys from Gospel Oak is a simple album, but there's something deeply satisfying in its elegance, and it captures a soulful and touching spirit that's found in Iain Matthews' best music.
TRACKLIST
01. Ian Matthews – Knowing the Game
02. Iain Matthews – Polly
03. Ian Matthews – Things You Gave Me
04. Ian Matthews – Mobile Blue
05. Iain Matthews – Tribute to Hank Williams
06. Iain Matthews – Met Her on a Plane
07. Iain Matthews – Bride 1945
08. Ian Matthews – Franklin Avenue
09. Iain Matthews – Do Right Woman
10. Iain Matthews – Sing Me Back Home
11. Iain Matthews – Met Her on a Plane (7″ Single Mix)
12. Iain Matthews – Devil In Disguise (Outtake)
–––––––––––-
DON'T MODIFY THIS FILE
–––––––––––-
PERFORMER: auCDtect Task Manager, ver. 1.6.0 RC1 build 1.6.0.1
Copyright © 2008-2010 y-soft. All rights reserved
http://y-soft.org
ANALYZER: auCDtect: CD records authenticity detector, version 0.8.2
Copyright © 2004 Oleg Berngardt. All rights reserved.
Copyright © 2004 Alexander Djourik. All rights reserved.
FILE: 12 – Iain Matthews – Devil In Disguise (Outtake).flac
Size: 17821571 Hash: 8EB6EB8F31368264624B15DF10D62109 Accuracy: -m0
Conclusion: CDDA 99%
Signature: A940512B3D62A0295172CB23DE33E1327D55D436
FILE: 11 – Iain Matthews – Met Her on a Plane (7- Single Mix).flac
Size: 21149460 Hash: 74BFA4B8614BBAC3949E774F0A047E5A Accuracy: -m0
Conclusion: CDDA 100%
Signature: 25A311B9E05B6325E27808186583A320C42092CA
FILE: 10 – Iain Matthews – Sing Me Back Home.flac
Size: 22935655 Hash: 0DE2FBAB3DBEE5C722704333FC7E3818 Accuracy: -m0
Conclusion: CDDA 100%
Signature: 32FD92B101AC7A16F62F0A3F55F0B0E1E017FF31
FILE: 09 – Iain Matthews – Do Right Woman.flac
Size: 21656640 Hash: 847456FEAE534A86FB5CEE5DF38D9B2E Accuracy: -m0
Conclusion: CDDA 100%
Signature: AAC723846D4CA9ACD1CC58489A344F8638554AC3
FILE: 08 – Ian Matthews – Franklin Avenue.flac
Size: 20391809 Hash: 28847347E955704F26DF99987733245E Accuracy: -m0
Conclusion: CDDA 99%
Signature: DB7D4B8C24CBC68603541115A893843CBD7C6E50
FILE: 07 – Iain Matthews – Bride 1945.flac
Size: 19388354 Hash: CBCF7716A4A891EDCBD80455474C60BB Accuracy: -m0
Conclusion: CDDA 100%
Signature: 243C9FB80D8532C543C341F295AF412C19DB1468
FILE: 06 – Iain Matthews – Met Her on a Plane.flac
Size: 22367857 Hash: DAE3BD2F8B6702019C5BAE85B0E03156 Accuracy: -m0
Conclusion: CDDA 100%
Signature: B0273C2723B2C2341CE5060667F67211638F0A61
FILE: 05 – Iain Matthews – Tribute to Hank Williams.flac
Size: 17492257 Hash: B7515B71C81045A6D537B446B4CC88B6 Accuracy: -m0
Conclusion: CDDA 100%
Signature: 5F24E5662282425FF97F4313E61BB8E558D61D4A
FILE: 04 – Ian Matthews – Mobile Blue.flac
Size: 22491535 Hash: 2F6B7AC69B25DFE67B8C9915B691D4FC Accuracy: -m0
Conclusion: CDDA 100%
Signature: 77CA3169C589EECDAD4ED1AB7DDA8A9736452A67
FILE: 03 – Ian Matthews – Things You Gave Me.flac
Size: 15493362 Hash: A5A1CCA8FC34C103F6F9B3937BFA1CDB Accuracy: -m0
Conclusion: CDDA 100%
Signature: E159AAD32DA24CCEB608B75C56BFFB3FEDE73E7D
FILE: 02 – Iain Matthews – Polly.flac
Size: 24054369 Hash: 3D6D9ABDC749EDF2122D3D1C399F4DD2 Accuracy: -m0
Conclusion: CDDA 100%
Signature: 1293DCC2FA1EEBE0AF3EB67B4FAADC585451AF85
FILE: 01 – Ian Matthews – Knowing the Game.flac
Size: 17415859 Hash: 26AA2FA5BA0B3049212E82AA5E9DD328 Accuracy: -m0
Conclusion: CDDA 99%
Signature: 192E8D1F3B8DBCCFD88A4653A1BDE5CD67651E5D
All thanks go to the original releaser
DOWNLOAD LINK