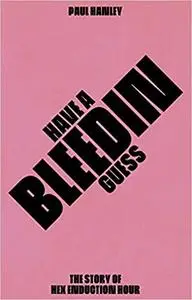 A Quietus Book of the Year
A Northern Soul Book of the Year
A The Australian Book of the Year
Of all The Fall's myriad long-players, Hex Enduction Hour remains one of their most highly regarded. Even the circumstances of its recording, purportedly in an abandoned cinema and a cave formed from Icelandic lava, have achieved legendary status among their ever-loyal fanbase. HAVE A BLEEDIN GUESS tells the full story of the album, including how each song was written, performed and recorded. It also includes new interviews with key players.
Author Paul Hanley, who was one of The Fall's two drummers when Hex was created, is uniquely placed to discuss the album's impact, both when it was released and in the ensuing years. Foreword by Stewart Lee
DOWNLOAD LINK