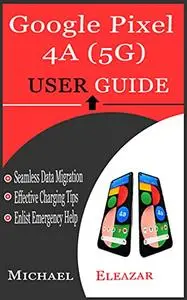 This book provides a unique and simple approach that will guide Google Pixel 4A (5G) users to understand the functionality of their device fully.
Google has, in this release, carefully incorporated the essential features of Pixel 4A with the powerful specs of Pixel 5 together to produce a unique technology in mobile devices that makes the user self-sufficient. Therefore, the author of this manual has provided reliable principles that can guide you to optimize the benefits of using this device by going beyond the basics.
Do you know that your device can help you in an emergency, tell you if your region is earthquake-prone, and even warn you of such disasters before they happen? It all depends on your knowledge and ability to operate the applications designed to perform such functions. Don't worry! This book you're about to purchase provides all you need to know regarding your precious Google Pixel 4A with 5G network.
Below are some key features discussed in detail:
Configuring Your Pixel Phone
How to Transfer Data from Your Current Phone
How to Transfer Files Between Your Computer and Your Pixel Phone
Tips on How to Charge Your Google Pixel Smartphone
Connect To Wi-Fi Networks and Modify Network Settings
What OpenRoaming Is and How Does It Works
Connect to Mobile Networks and Modify Settings
How to Set the Default SIM for Data, Calls, and Text Messages
How to Use a Different SIM during Calls
Use Any Mobile Carrier with Your Pixel Phone
Using Dual SIM and Adjusting Settings on Your Device
Troubleshoot Dual-SIM Issues
Apps Download and Searching
How to Find or Take Photographs and Screenshots
Finding Contacts and SIM Messages
Asking Your Google Assistant
Using Email or Video Communication to Stay In Touch
Customizing Wallpaper on Your Pixel Phone
How to Add Apps, Shortcuts, and Widgets to Home Screens
Manage Your Pixel Phone's Screen and Display Settings
Modify the Language Settings
Make and Received Phone Calls Using Wi-Fi Connections
Blocking or Unblocking a Phone Number
Record Calls with the Phone App
Configuring and Using Messages App
Customizing Fonts and the Display Size
Use Your Pixel Phone to Seek Help in an Emergency
Find Out Whether There Have Been Any Earthquakes in Your Area
Receive Earthquake Warnings in Your Area
DOWNLOAD LINK