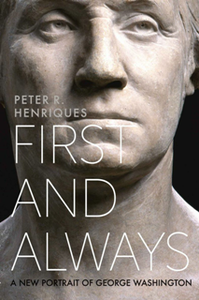 George Washington may be the most famous American who ever lived, and certainly is one of the most admired. While surrounded by myths, it is no myth that the man who led Americans' fight for independence and whose two terms in office largely defined the presidency was the most highly respected individual among a generation of formidable personalities. This record hints at an enigmatic perfection; however, Washington was a flesh-and-blood man. In First and Always, celebrated historian Peter Henriques illuminates Washington's life, more fully explicating his character and his achievements.
Arranged thematically, the book's chapters focus on important and controversial issues, achieving a depth not possible in a traditional biography. First and Always examines factors that coalesced to make Washington such a remarkable and admirable leader, while also chronicling how Washington mistreated some of his enslaved workers, engaged in extreme partisanship, and responded with excessive sensitivity to criticism. Henriques portrays a Washington deeply ambitious and always hungry for public adoration, even as he disclaimed such desires. In its account of an amazing life, First and Always shows how, despite profound flaws, George Washington nevertheless deserves to rank as the nation's most consequential leader, without whom the American experiment in republican government would have died in infancy.
If you want to support my blog, then you can buy a premium account through any of my files (i.e. on the download page of my book). In this case, I get a percent of sale and can continue to delight you with new books!
DOWNLOAD LINK