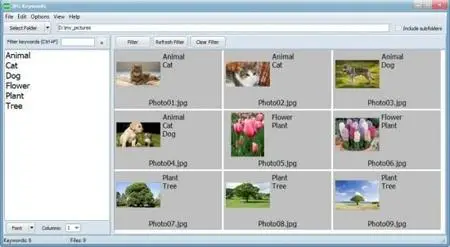 JpgKeywords is a tiny tool designed to help you edit keywords in JPG files. The utility can come in handy when you are re-organizing the pictures in new albums or when you want to edit camera-added metadata.
Features:
JpgKeywords works offline, locally on your computer. No info is sent anywhere. Internet connection is not needed.
JpgKeywords does not use any database or another file to store keywords. The keywords are stored directly in JPG files. This means that keywords are present always even if files are moved, copied or renamed.
To store keywords the standard IPTC metadata field "keyword" is used. This means that once your photos are populated with keywords any other software can be used for further pictures processing.
JpgKeywords uses UTF-8 text encoding to store keywords. This means that keywords can be in any language. Even keywords in different languages can be present in one JPG file.
JpgKeywords does not change the JPG picture itself. JpgKeywords does not crop, resize, rotate, adjust colors etc. The only program function is to edit keywords, but this work is being done well.
No need to type every keyword each time. Instead drag and drop is used.
The keywords list is auto populated from existing JPG files and can be used immediately. This helps to avoid duplicate keywords with typos.
Supports drag and drop from keywords list to one or multiple photos at once.
Supports drag and drop keywords from one photo to another.
Supports copy and paste keywords from one photo to another or to multiple photos at once.
Can rename already used keyword in multiple photos at once.
Newly added keywords are instantly visible in thumbnails.
Ability to filter photos by complex keyword filters or quick filter by one keyword.
Home Page:https://eedsoft.com
Language: English
DOWNLOAD LINK