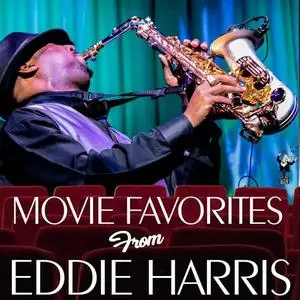 Eddie Harris made his first steps in gospel ensembles as a pianist and singer. Then he enrolled for a higher training in music, during which he will go through the learning of several instruments including the vibraphone, the bassoon, the trombone and of course the saxophone. During a stay in Europe as part of his military service, he took classical saxophone lessons in Paris, where he also performed with French musicians. Back in the United States, he made his piano debut with Gene Ammons before recording his first record as a leader in the early 60s. Following this inaugural album, he multiplied the recordings under his name and participated in several projects directed by Joe Diorio, Quincy Jones, Lalo Schifrin or Muhal Richard Abrahams. As a leader, he was accompanied by many talented musicians during his journey towards the 70s and also when he embarked on the experience of the amplified saxophone. Among them are Cedar Walton, Les McCann, Jodie Christian, Leroy Vinnegar, Ron Carter, Melvin Jackson, Rufus Reid and Billy Higgins. Borrowing from rock, funk, soul music and rhythm and blues, the experimenter Eddie Harris is mostly an authentic jazz musician who returns to a more classical style in the late 70s until his last albums in the early 90s.
Track List:
[02:45] 01. Eddie Harris – A.M. Blues
[04:30] 02. Eddie Harris – W.P
[08:33] 03. Eddie Harris – Salute To Bird
[04:32] 04. Eddie Harris – Spartacus
[03:33] 05. Eddie Harris – Sally T
[09:56] 06. Eddie Harris – Salute To Bags
[04:38] 07. Eddie Harris – Exodus
[02:19] 08. Eddie Harris – Green Dolphin Street
[02:44] 09. Eddie Harris – Moon River
[02:43] 10. Eddie Harris – Pocketful of Miracles
[03:56] 11. Eddie Harris – Lawrence Of Arabia
[02:36] 12. Eddie Harris – Tonight
[03:07] 13. Eddie Harris – Laura
[02:09] 14. Eddie Harris – El Cid
ANALYZER: auCDtect: CD records authenticity detector, version 0.8.2
Copyright © 2004 Oleg Berngardt. All rights reserved.
Copyright © 2004 Alexander Djourik. All rights reserved.
FILE: 01 – A.M. Blues.flac
Size: 16309162 Hash: 16E12932CAE0560E9BBD081E9F3A96A5 Accuracy: -m40
Conclusion: CDDA 99%
Signature: B5E116D31CBEADDB7C2EC1D25A37A2B43B73B559
FILE: 02 – W.P.flac
Size: 27462000 Hash: 9D44F448C21FE6889AAF80F329971179 Accuracy: -m40
Conclusion: CDDA 99%
Signature: 4C91950705D559D93E323E040AB69F0B94489572
FILE: 03 – Salute To Bird.flac
Size: 51285488 Hash: 42DCFF1CA8878FCD4F3BE26F68953BAF Accuracy: -m40
Conclusion: CDDA 99%
Signature: 8C15DDDE2E0D4431AA3137CF9774E74BAEFB3D43
FILE: 04 – Spartacus.flac
Size: 27039755 Hash: 2E239DF19DB30BFD8CE1A8EA3EDFD9AD Accuracy: -m40
Conclusion: CDDA 100%
Signature: 9960E255DE3093F92AE4334D82BDD67E96949C3B
FILE: 05 – Sally T.flac
Size: 21974859 Hash: 3F0DF7D45CB98C059DD7DD8B08460D2B Accuracy: -m40
Conclusion: CDDA 100%
Signature: 068BB7B998D74984E0EED8D746DDA9599AFA8581
FILE: 06 – Salute To Bags.flac
Size: 57614995 Hash: ED24BF37B86B84A9C309FEC4F929B919 Accuracy: -m40
Conclusion: CDDA 99%
Signature: 4DF3803D082BA0FFF31C63ACFD6EF8E2E9963A7A
FILE: 07 – Exodus.flac
Size: 25532958 Hash: EF1439B33630A78CC1BEE5A20FF06092 Accuracy: -m40
Conclusion: CDDA 100%
Signature: F55417E140ED3C4EE57BF37FF37E3A2CB5522226
FILE: 08 – Green Dolphin Street.flac
Size: 12599675 Hash: C14DAD06122A8FF972451A940DECCA31 Accuracy: -m40
Conclusion: CDDA 100%
Signature: 58F7177977F379EC0C8E7BC4BA962254B13AC06C
FILE: 09 – Moon River.flac
Size: 14582455 Hash: C7E7DE56497F6EBA2AB93498459F309A Accuracy: -m40
Conclusion: CDDA 100%
Signature: 7BF34C77509B9921FD1A3244B2B4B3722144C9E1
FILE: 10 – Pocketful of Miracles.flac
Size: 14855668 Hash: 812D2C017A0C9B43214A1A9F43DE13C4 Accuracy: -m40
Conclusion: CDDA 100%
Signature: C89C69841EE15E0ADA918F3017DDD7C58CF074EF
FILE: 11 – Lawrence Of Arabia.flac
Size: 22309968 Hash: D810320B550284E6AF30C1FF8E720103 Accuracy: -m40
Conclusion: CDDA 100%
Signature: 4691B641A978F60EDD7920802C3ECD0CD7E1182B
FILE: 12 – Tonight.flac
Size: 14708056 Hash: 85F042BCEA8B98873D5B277A026B5CEC Accuracy: -m40
Conclusion: CDDA 100%
Signature: 5D3A413C313DE2061F4ABD5848BC5CC4C5DB0348
FILE: 13 – Laura.flac
Size: 16270076 Hash: 28BB177E519D7D1042DBFC0AEE7A924B Accuracy: -m40
Conclusion: CDDA 100%
Signature: 9811FD51AB5B9D9395FE9109F2ED7A317CCD53E6
FILE: 14 – El Cid.flac
Size: 11822777 Hash: A2A511F90942159C77E637D6DF1F1A12 Accuracy: -m40
Conclusion: CDDA 100%
Signature: 198E42AB152674A69D804B2F41B38C666AD5AD98
DOWNLOAD LINK