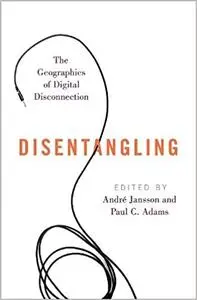 Digital networking platforms like Facebook and Twitter have revolutionized everyday human interaction by facilitating the search for, and access to, information, entertainment, and social connection. But with the rise of digital surveillance and data extraction for profit, more people are
seeking not just to disconnect from technology but to fully disentangle themselves from the widespread social, economic, and political networks of digital communications.
Disentangling offers an interdisciplinary global analysis of this growing trend toward disconnection. Moving beyond technological disconnection, this volume proposes the term "disentangling" as a lens for re-thinking the structures of our digital world and categorizing the ways in which people
reject, avoid, or rework their digital networks. Across twelve chapters, contributors explore the existential issues stemming from digitally entangled lives, including cultural capital and digital "detox" retreats, and investigate how geographies of disconnection relate to wider societal challenges.
Additional chapters explore connections between digital disconnection and other forms of disconnection, including death, sleep, and the abandonment of human settlements. The volume closes with a reflection on connectivity in the post-pandemic society and how we might rework our connections to fit a
"socially distanced" world.
Blending philosophy and sociology with media geography, Disentangling offers a crucial reflection on how we might unravel our digital dependence by reasserting resilient boundaries between ourselves and the surrounding political, economic, cultural, and technological systems.
My nickname – interes
DOWNLOAD LINK