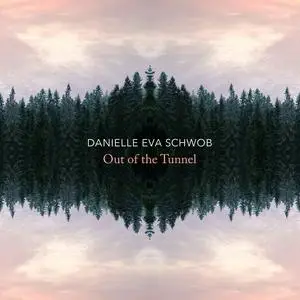 Originally from London but based in Los Angeles and New York, Danielle Eva Schwob is a "notable cross-genre composer" (The New Yorker) who writes concert works, experimental electro-rock and film scores. Danielle's debut album as a composer in the classical realm, Out of the Tunnel, is an artful collection mixed by Grammy nominee Ryan Streber and Grammy-winners Silas Brown and Marc Urselli. Out of the Tunnel presents the first recordings of nine compositions, each as contemporary as it is alluring.

The chamber music Danielle has composed is often inspired by nature and other art, such as painting. On Out of the Tunnel, there is a striking triptych for solo violin, solo cello and solo piano (commissioned by the American Composers Forum): "Reflections on Francis Bacon," "Reflections on Lucian Freud" and "Reflections on David Hockney," the title subjects being British painters who often socialized together and motivated each other. Similarly, many of the album's performers are close colleagues of the composer, the relationships cultivated over years working alongside each other on stage and in the studio. The album's titular string quartet, the thrilling "Out of the Tunnel," was commissioned from Danielle jointly by New Music USA and the Grammy-nominated performing ensemble on the album: PUBLIQuartet, whose members the composer knows well. Harpist Ashley Johnson, who performs several pieces on the album, has a long collaborative history with Danielle, and violinist Jennifer Choi has also played with Danielle in various contexts, including on DELANILA'S Overloaded album.

"I wrote the music of 'Out of the Tunnel,' the string quartet, especially for PUBLIQuartet, knowing their uncommon combination of skills," Danielle explains. "They are a unique group, not only with all the classical chops you could imagine but also nearly jazz-level improvisational abilities and a rock-like energy that's very attractive – and ideal for 'Out of the Tunnel.' The same goes for the several pieces with harp on the album. Ashley is such a gifted performer, one who invests so much soul and depth into her playing – just listen to her solo piece on the album, 'The Long Way Down.' As an interpreter of scores, she shapes the music in a way that feels deeply personal – a dream come true for a composer. It's similar with Jennifer Choi, cellist Mike Nicolas of Brooklyn Rider and pianist Orion Weiss, as well as flutist Nathalie Joachim, who puts her breath into several nature-inspired pieces on the album. I love working with such incredible performers – they helped bring my chamber music to vivid life."

Her music has been featured by presenters and venues including Lincoln Center, BRIC Celebrate Brooklyn, Philip Glass's MATA Festival, Arts Brookfield, Le Poisson Rouge, Roulette's [GENERATE] and Spring Place, earning honors and commissions from The Aaron Copland Fund for Music, ASCAP, ChamberMusicNY, The American Composers Forum, New Music USA, BMI and more. She was also a 2015 Sundance Institute Composers Lab Fellow, a 2011 Con Edison 'EtM' Composer-In-Residence, a 2018 and 2019 MAP Fund Finalist and 2014 Atlantic Center for the Arts Associate-Artist-In-Residence. Her work has been featured on radio/TV stations across the U.S. and Canada, most notably NPR and NY1, as well as at the LES Film Festival (Prix D'or), Dances with Films and more.

A versatile collaborator, she has worked with artists including Jóhann Jóhannsson, Ben Folds, Philip Glass, The Pogues, David Simon and David Bottrill, as well as on Darren Aronofsky's mother!, Shakespeare in the Park, David Attenborough's Emmy-nominated Conquest of the Skies, James Schamus' Indignation, Manhattan Night starring Adrien Brody and How To Follow Strangers starring Broad City's Ilana Glazer. Collaborators from the concert world include PUBLIQuartet, violinist Jennifer Choi, pianists Vicky Chow and Orion Weiss, Janus Trio, American Modern Ensemble and more. She has also worked on projects in conjunction with Google, IMAX, Hulu and CBS.
Tracklist:
01. Schwob: Out of the Tunnel: I. Fast
02. Schwob: Out of the Tunnel: II. Slow
03. Schwob: Out of the Tunnel: III. Moderate
04. Schwob: Out of the Tunnel: IV. Fast – Coda
05. Schwob: Traveling North (Version for Flute & Vibraphone)
06. Schwob: The Long Way Down
07. Schwob: Breathing Underwater
08. Schwob: Reflections on Francis Bacon
09. Schwob: Reflections on Lucian Freud
–––––––––––-
DON'T MODIFY THIS FILE
–––––––––––-
PERFORMER: auCDtect Task Manager, ver. 1.6.0 RC1 build 1.6.0.1
Copyright © 2008-2010 y-soft. All rights reserved
ANALYZER: auCDtect: CD records authenticity detector, version 0.8.2
Copyright © 2004 Oleg Berngardt. All rights reserved.
Copyright © 2004 Alexander Djourik. All rights reserved.
FILE: 09 – Various Artists – Danielle Eva Schwob – Schwob- Reflections on Lucian Freud.flac
Size: 25280421 Hash: 7F941B9DF819C004E4859C7C2CBE8BC8 Accuracy: -m8
Conclusion: CDDA 100%
Signature: 11D4B51F910B528E2CFFEBCF85BDF0D357856A38
FILE: 08 – Various Artists – Danielle Eva Schwob – Schwob- Reflections on Francis Bacon.flac
Size: 38652480 Hash: 58C49B6E61CED71C3F06015D4DEF3273 Accuracy: -m8
Conclusion: CDDA 99%
Signature: 38D2616B80B06AA9EEF4ECC40C9046051CBCA991
FILE: 07 – Various Artists – Danielle Eva Schwob – Schwob- Breathing Underwater.flac
Size: 29577428 Hash: 504AA659BD39682416512FEF9E23394C Accuracy: -m8
Conclusion: CDDA 100%
Signature: 19F7F3929BC5BB18BD0EB07C008DD10E5E68EB8A
FILE: 06 – Various Artists – Danielle Eva Schwob – Schwob- The Long Way Down.flac
Size: 18263381 Hash: C122422405CFEE36E00D4F9C7D45439A Accuracy: -m8
Conclusion: CDDA 100%
Signature: 63CDAA32623AEE9126900AA510029C0D223BE472
FILE: 05 – Various Artists – Danielle Eva Schwob – Schwob- Traveling North (Version for Flute & Vibraphone).flac
Size: 11337588 Hash: DF794003EAD5C773466FBDD3BEA0611F Accuracy: -m8
Conclusion: CDDA 100%
Signature: BD304B84254CF47F339498E6A24011DB4037D2E2
FILE: 04 – Various Artists – Danielle Eva Schwob – Schwob- Out of the Tunnel- IV. Fast – Coda.flac
Size: 30406610 Hash: DBC0B6AEDBE2EA606D7C302E269F9FDD Accuracy: -m8
Conclusion: CDDA 100%
Signature: C2DA3AA27D6554B4CDF861175312125ABE6B50BD
FILE: 03 – Various Artists – Danielle Eva Schwob – Schwob- Out of the Tunnel- III. Moderate.flac
Size: 3056412 Hash: 53E1780BBAFB768AC177DB08648A34AE Accuracy: -m8
Conclusion: CDDA 54%
Signature: 6A36350D1E1B82CB3C618D769DB6013677453CA7
FILE: 02 – Various Artists – Danielle Eva Schwob – Schwob- Out of the Tunnel- II. Slow.flac
Size: 19230732 Hash: 9C2D7F635E8FB69CE4F1745506A7D046 Accuracy: -m8
Conclusion: CDDA 62%
Signature: A41383A5E48D13B8206C769B2FD020B4E998C9C4
FILE: 01 – Various Artists – Danielle Eva Schwob – Schwob- Out of the Tunnel- I. Fast.flac
Size: 30307919 Hash: EE4C4293687FE0B9E5F6A14975BD2FF3 Accuracy: -m8
Conclusion: CDDA 100%
Signature: 54A643010616A817D7E5B157230552DB58DA0433
DOWNLOAD LINK