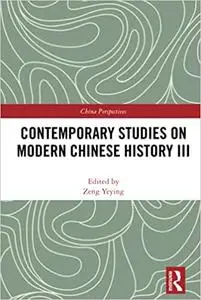 The study of modern Chinese history has developed rapidly in recent decades and has seen increased exploration of new topics and innovative approaches. Resulting from a special issue of Modern Chinese History Studies, this volume is devoted to showcasing the healthy development of Chinese modern history studies, and has already been revised twice in the original language.
This three-volume set exhibits major achievements in the study of modern Chinese history and shows how the role of history has been in debate, transformation, and re-evaluation throughout this tortuous yet prosperous period. This volume investigates the critical movements, such as the Taiping Heavenly Kingdom Movement and the Chinese People's War of Resistance against Japanese aggression, that contribute to the establishment of the People's Republic of China. In addition, it includes valuable summaries of various perspectives in modern Chinese history studies, such as the translation of overseas studies, and pioneering topics that historians have examined between 2009 and 2019.
This book will benefit scholars and students of Chinese history, especially those who are interested in modern Chinese history.
DOWNLOAD LINK