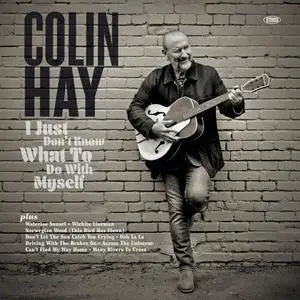 Colin Hay first emerged as songwriter/vocalist for hitmakers Men at Work before establishing himself as a solo artist. But his love for music was born in his native Scotland while working at his parents' record store and hearing the hits of the day. At home during quarantine in 2021 Hay was moved to record some of his favorites from that period. From the Kinks' "Waterloo Sunset" to Faces' "Ooh La La" and Dusty Springfield's "I Just Don't Know What to Do with Myself", Hay delivers a set a lushly reimagined classics that showcase both his talent for interpreting songs and his iconic vocals.
Tracklist:
1. I Just Don't Know What To Do With Myself (03:31)
2. Waterloo Sunset (03:15)
3. Wichita Lineman (03:53)
4. Norwegian Wood (This Bird Has Flown) (02:48)
5. Don't Let the Sun Catch You Crying (03:40)
6. Ooh La La (03:14)
7. Driving With the Brakes On (04:31)
8. Across the Universe (03:59)
9. Can't Find My Way Home (03:19)
10. Many Rivers To Cross (03:04)
–––––––––––-
DON'T MODIFY THIS FILE
–––––––––––-
PERFORMER: auCDtect Task Manager, ver. 1.6.0 RC1 build 1.6.0.1
Copyright © 2008-2010 y-soft. All rights reserved
ANALYZER: auCDtect: CD records authenticity detector, version 0.8.2
Copyright © 2004 Oleg Berngardt. All rights reserved.
Copyright © 2004 Alexander Djourik. All rights reserved.
FILE: 10 – Many Rivers To Cross.flac
Size: 19103495 Hash: 93B62BBBCAD78BE748918D18EA69640A Accuracy: -m8
Conclusion: CDDA 100%
Signature: 379F9116CE436480931DD4F4DED491B9A2FA17B0
FILE: 09 – Can't Find My Way Home.flac
Size: 22987330 Hash: 4B3DE7223780EF8379822D0998655146 Accuracy: -m8
Conclusion: CDDA 100%
Signature: 4E96D66D8CEF6A7FC3B92F5D118D5D0198AB1C6A
FILE: 08 – Across The Universe.flac
Size: 27486372 Hash: 5E01AB3BF9A5DC323E9FE5C638AF30C9 Accuracy: -m8
Conclusion: CDDA 100%
Signature: FB24B41256D34409D7AFEF616757D9289EA44DDF
FILE: 07 – Driving With The Brakes On.flac
Size: 29593229 Hash: B6EB6AFBDAA9EE781E5D38484453F44C Accuracy: -m8
Conclusion: CDDA 100%
Signature: CB93EA79CBFDB70D16259352D27B15477DA0A292
FILE: 06 – Ooh La La.flac
Size: 22916502 Hash: 99101A13144BAC84B0F19FC94D90CA1B Accuracy: -m8
Conclusion: CDDA 100%
Signature: E70F476A4776973ED56F6BF51FAF694BCF638365
FILE: 05 – Don't Let The Sun Catch You Crying.flac
Size: 19375607 Hash: 638ECE4DB04A7552A8C8AD072760C957 Accuracy: -m8
Conclusion: CDDA 100%
Signature: A3A3C5A91D242B08A8ABF2563F60E7357196EBC3
FILE: 04 – Norwegian Wood (This Bird Has Flown).flac
Size: 17952590 Hash: 8A87A80F8E3D207FE15E5E77FC44E8E5 Accuracy: -m8
Conclusion: CDDA 100%
Signature: 9C0B6D9927F02D47EF0F868E628C2BDEF2E2DD4F
FILE: 03 – Wichita Lineman.flac
Size: 26567602 Hash: 3748B2B2A4C7AFF6AA33964B6C22A8DE Accuracy: -m8
Conclusion: CDDA 100%
Signature: B2E02E558A62A8A5CF86D18DBC501F89AF40FEAE
FILE: 02 – Waterloo Sunset.flac
Size: 21861313 Hash: F948884A2D511613474683C3C91EE28D Accuracy: -m8
Conclusion: CDDA 100%
Signature: 6A84A28075C2305AD90F70E5F8FCDFF12CD992B6
FILE: 01 – I Just Don't Know What To Do With Myself.flac
Size: 24583835 Hash: 9F063E73DBC0EAFD0A14EAF317FD2463 Accuracy: -m8
Conclusion: CDDA 100%
Signature: 6930E9D1AFDEB62A9EFB9823FAF93AAC1A439894
DOWNLOAD LINK