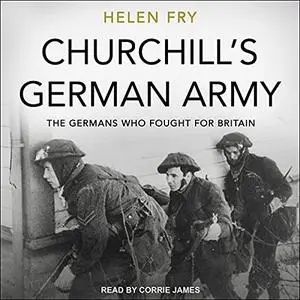 Swearing allegiance to King George VI, they volunteered to serve in the British armed forces and joined the Pioneer Corps, the only unit then open to them. Known affectionately as "the King's most loyal enemy aliens", most were Jews, but a significant number were political opponents of the Nazi regime and so-called "degenerate artists".
Some 4,000 men enlisted direct from internment camps in Britain, Canada, and Australia after the autumn of 1940. Many soon became disillusioned with digging trenches and laying railway tracks and, when the British Government permitted them to join front-line units, they transferred to the Royal Armoured Corps, the infantry, the Parachute Regiment, the SAS, and the Commandos, as well as the Royal Navy and the RAF. At the end of the War, thousands returned to Germany and Austria to begin the process of de-Nazification, the reconstruction of Europe, and the hunt for war criminals.
In this revealing insight into a little-known aspect of British wartime history, Helen Fry documents the stories of those who fought for king and adopted country. Based on interviews with veterans and drawing on a rich vein of source material, the author sets their personal stories against the bigger picture of the experience of enemy aliens in Britain during the Second World War.
DOWNLOAD LINK