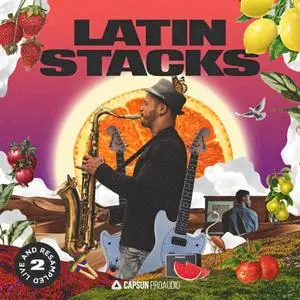 Latin Stacks: Live & Resampled Vol. 2 is the newest installment of our popular Latin Stacks series and continues to pay homage to the classic rhythms, melodies, and live instrumentation of the Latin countries. This collection was inspired by songs of yearning that conceal themes of love, heartbreak, conflict, and celebration. Created in collaboration with Arthouse Acoustics, we recorded live upright pianos, dusty trumpet stacks, spirited acoustic guitars, and moody double bass. Crackling vintage Latin vinyl blend with the sounds and spirit of grindhouse and exploitation cinema.
The Arthouse Acoustics team created full compositions and song sections and recorded with professional session musicians. These 'stacks' are included as full loops and also soloed layers. We curated the best selection of loops and one-shots from the performances and chopped and sprinkled FX for instant inspiration.
We resampled the compositions, creating loop layers that combine the sonics of rare vinyl with modern left-field sound design. Using classic hip-hop chopping, pitch and time, reversing, saturation, and secret sauce, the samples could inspire trap and rap as easily as house, pop, and EDM.
We also recorded traditional Latin percussion rhythms and essential live percussion one-shots. Every loop has been meticulously key-tagged and tempo-synced.
Latin Stacks: Live & Resampled Vol 2 by Capsun ProAudio continues the journey from influence to inspiration via talented pro musicians, thoughtful recording techniques, and tasteful experimentation.
DOWNLOAD LINK