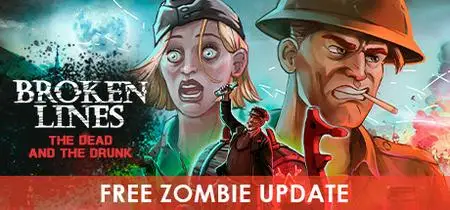 Dead are returning from their graves! If crash landing behind enemy lines was already a challenging experience for our squad of vagabonds, they sure as Hell didn't sign up for this kind of insane, supernatural encounter, a three-sided fight for survival against both the living and the undead. Yet now it is upon them to discover the source of this occult magic in the war-ridden land that they find themselves in, and hopefully eliminate it before hordes of zombies spread all over the world. But how does one retain their sanity when facing enemies that have been spat out of hell?
Tactical action
The critically acclaimed gameplay formula is back – now with zombies! Scout the battlefield, lure undead hordes to fight your enemies, then once both sides are suitably weakened, charge in and mop up the weakened survivors in one fell swoop – or bring out the biggest guns in your arsenal and simply blast your sorrows away. Just make sure to watch your back as the undead will come from all directions.
Occult mysteries
The biggest mystery here is the amount of booze in your keg. How come it's never empty, even though everyone is constantly drinking from it? Well, not just that, all those reanimated corpses, pagan altars, and constant fog that blankets the area are worth investigating too, but not until everyone has quenched their thirst!
Inhuman bosses
Death comes in many forms, and the undead will return in just as many, so be prepared to adapt your fighting style to whatever unique zombie is in front of you, beware, some of them are truly monstrous, so your squad will need all of the combat experience and newly found Dutch courage to survive the encounter!
Booze and guns
Being an alcoholic has its perks. Literally. The more your soldiers drink, the more perks and abilities they get. Combine it with the vast arsenal left behind by those cowards who ran for their lives when they first saw the undead and you end up having a surprisingly diverse armament and abilities, perfect in your fight against the zombie apocalypse!
MINIMUM:
Requires a 64-bit processor and operating system
OS: Windows 7
Processor: i5-5700 2Ghz
Memory: 8 GB RAM
Graphics: Graphics: GeForce GT 750M 2GB or similar (1500 3DMark score)
DirectX: Version 10
Storage: 6 GB available space
RECOMMENDED:
Requires a 64-bit processor and operating system
OS: Windows 10
Processor: I7-7700 4Ghz
Memory: 16 GB RAM
Graphics: GTX1050
DirectX: Version 10
Storage: 6 GB available space
DOWNLOAD LINK