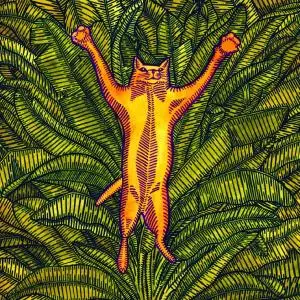 Brian Marsella is finally being recognized as one of the most talented and imaginative pianists of his generation. A veteran of countless bands including Banquet of the Spirits and many projects with John Zorn, his recent recordings have been some of the most exciting music coming out of the NYC jazz scene. Here he leads an octet to perform his scintillating compositions inspired by classical, jazz, and folkloric Brazilian music. Influenced by composers from Ernesto Nazareth, Heitor Villa-Lobos and Pixinguinha to Baden Powell and Egberto Gismonti, Marsella combines samba, bossa-nova, choro and more. The band is an all-star unit and the arrangements are red hot, filled with catchy dance grooves and plenty of soloistic fireworks. This is Marsella at his best. Essential!
Tracklist:
1. Marakashtu (10:57)
2. Lamento (06:27)
3. Fire The Pandeiro Player (06:10)
4. O Balanço Das Corredeiras (09:30)
5. Meu Doce De Abóbora (06:44)
6. O Touro Choro (06:52)
7. Gratidão (08:32)
–––––––––––-
DON'T MODIFY THIS FILE
–––––––––––-
PERFORMER: auCDtect Task Manager, ver. 1.6.0 RC1 build 1.6.0.1
Copyright © 2008-2010 y-soft. All rights reserved
ANALYZER: auCDtect: CD records authenticity detector, version 0.8.2
Copyright © 2004 Oleg Berngardt. All rights reserved.
Copyright © 2004 Alexander Djourik. All rights reserved.
FILE: 03 Fire The Pandeiro Player.flac
Size: 39404951 Hash: 129F96435A52D3BBDBE67F24AFEECF39 Accuracy: -m8
Conclusion: CDDA 100%
Signature: 8ADF9D493FD30769ABD8303AB696C23DF440271E
FILE: 02 Lamento.flac
Size: 41538530 Hash: 15BE0FE48BF072AFBA1950A462C6C9E9 Accuracy: -m8
Conclusion: CDDA 100%
Signature: E5256C73D7A2E1ECE8C91260F4C2B81F59665EE2
FILE: 01 Marakashtu.flac
Size: 74209232 Hash: E8EA354370B9A2BFEE59D59FE2257FB0 Accuracy: -m8
Conclusion: CDDA 100%
Signature: C7CC3A6F81BBC0F962A7E6BE445B15C6205C6C7C
FILE: 07 Gratidão.flac
Size: 50096439 Hash: CD7895E3097093B68EA143913788FA5F Accuracy: -m8
Conclusion: CDDA 100%
Signature: 01627DAE431186EA1F8E76807BB8498CAB9729FB
FILE: 06 O Touro Choro.flac
Size: 43065465 Hash: 2EFDEBE0A618A81D9A301C6806D2C48B Accuracy: -m8
Conclusion: CDDA 99%
Signature: 811D9C177A3B81E68B2996C9682C1650FF02EE5A
FILE: 05 Meu Doce De Abóbora.flac
Size: 47959508 Hash: A62EE117EE76700B8AA6DCF324549782 Accuracy: -m8
Conclusion: CDDA 100%
Signature: C05295E2D4ED45EA84EA006F178DAF3F0EEE8293
FILE: 04 O Balanço Das Corredeiras.flac
Size: 68497928 Hash: B97694E746DBED8BDBA5B1F135415EEE Accuracy: -m8
Conclusion: CDDA 86%
Signature: FB276169F6A2B83E1F18F8CC54BB757CCCFC2E9C
DOWNLOAD LINK