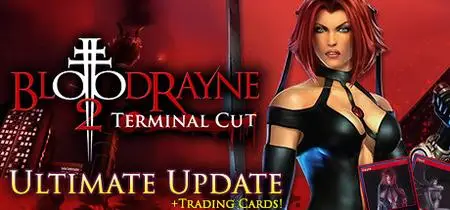 Enhanced and updated for modern systems by the game's original developers, this is the definitive edition of BloodRayne 2.
BloodRayne is a dhampir, born from the unnatural union of vampire and human. Blessed with the powers of a vampire but cursed with the unquenchable thirst for blood and a weakness to sunlight, Rayne is challenged with her most personal battle yet as she hunts down her siblings. They have banded together and pledged to carry on their father's legacy of creating a new era of vampire supremacy where humans are mere cattle.
With new acrobatic movements and rail sliding, fast-paced blade and gun combat, fatal finishing moves, more dhampir powers like time control, and an extensive combo system, BloodRayne 2 is a brutally satisfying continuation of the iconic series.
Features and enhancements of the Terminal Cut edition, created by the game's original development team:
Support for higher display resolutions (up to 4K / 3840×2160).
Upscaled cinematic videos
Support for modern gamepads (XInput)
Improved rendering with up to 4x anti-aliasing
Improved lighting with higher resolution light maps
Support for higher texture resolutions allowing for use of original, uncompressed textures
Improvements to visual effects and reflections
MINIMUM:
OS: Windows 8.1 or higher
Processor: Intel 4th Generation Core i3, i5, i7
Memory: 2 GB RAM
Graphics: Intel HD Graphics 520 or higher
Storage: 15 GB available space
Additional Notes: Optimized for XInput controllers (Xbox 360, Xbox One)
RECOMMENDED:
OS: Windows 10
Processor: Intel 8th, 9th, 10th, 11th Generation Core i3, i5, i7 or AMD Ryzen Series
Memory: 8 GB RAM
Graphics: Intel Iris, nVidia GeForce (2015 or above) or AMD Radeon (2015 or above) graphics card with 2GB of RAM or more
Storage: 15 GB available space
Additional Notes: Optimized for XInput controllers (Xbox 360, Xbox One)
DOWNLOAD LINK